New standards for large-volume silos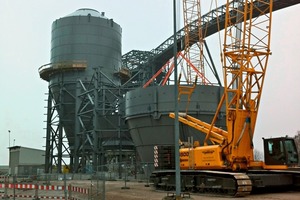 1 Mit einem Durchmesser von 15 m und einer Gesamthöhe von 36 m stellt das Projekt Wilhelmshaven in Sachen Großraumsilo neue Maßstäbe auf # Thanks to their tapered design, the silos supplied by Silobau Thorwesten boast huge advantages for the material flow
Silobau Thorwesten is a company based in Beckum/­Germany, with decades of experience in all areas of engineering, production and installation of silos and silo systems for bulk solids and pressure-shock-resistant silos for fuels in welded or bolted design. In the non-metallic minerals industry and power plant technology sector in particular, Silobau Thorwesten has made a name for itself not only on the back of the quality of its in-house engineered silos, but also its precision design and well-thought-out service. Even sites that are difficult to build on do not pose a problem for the engineers and fitters at Silobau Thorwesten.
One interesting example of the company's expertise in this respect is a project recently completed by the company. At a construction site in Wilhelmshaven, in an extremely small space, four large-volume silos had to be installed for the storage of coal. The customer's specifications were immense: 15 m diameter, 36 m total height, 4000 m3 capacity per silo and a discharge rate of 540 t/h – and that all in a silo that stands on supports (Fig. 1). A big challenge for both design and installation.
With a lot of know-how and meticulous planning, the company's own design department nevertheless succeeded in finding an efficient solution to the problem. The defect-free prefabricated components (with corrosion protection – hot dip galvanized and coated – already ex works) were precision-fitted together at the construction site. The space in the extremely small installation site could be optimally utilized and the silos installed without any problems despite their gigantic dimensions. With this economic and time-saving method of working, Silobau Thorwesten can save the customer any unnecessary delays at the construction site.
With the completion of such an installation, the company was able to push the boundaries for design with steel silos within the sector. Whereas previously, on account of a wide range of concerns, the design of concrete silos was preferred, it is now possible to design with steel silos – a huge plus in cost effectiveness and efficiency at the construction site. In addition, thanks to tapered design, the steel silos used offer an advantage for the material flow (Fig. 2).

www.thorwesten.com