Mobile screen plants – innovative and high performance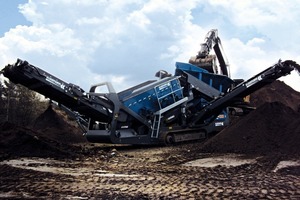 1 Mobiscreen MS 13 Z: Kompakt, leistungsstark und zuverlässig # Mobiscreen MS 13 Z: Compact, high-performing and reliable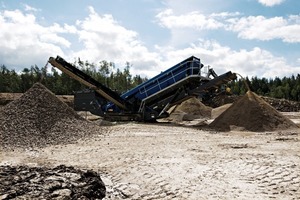 2 Mobiscreen MS 19 Z: Einsetzbar im Naturstein und im Recycling mit einer Leistung von bis zu 500 t/h # Mobiscreen MS 19 Z: Can be used in natural stone applications and in recycling with an output of up to 500 t/h
Kleemann is renowned for its innovative and high performance mobile crusher plants. Be it in the most diverse natural stone applications or in the recycling of asphalt, concrete or mixed rubble, at primary, secondary or tertiary crushing stages, with its comprehensive offer of mobile impact crushers, jaw crushers or cone crushers for years Kleemann has been satisfying discerning and professional customers.
What is less well-known is that for years Kleemann has also been offering a large selection of mobile screen plants. ­Kleemann currently has no less than twelve different models of the Mobiscreen series in its product portfolio, with screening areas from 3.4 m2 up to 18.4 m2. There is thus the matching mobile screen for every mobile crusher plant in the Kleemann product range. Similar to the mobile crusher plants, Kleemann also makes a distinction here between plants for the contractor market, the so-called "Contractor Line" and the "Quarry Line", i.e. plants which are designed especially for the needs and conditions in the touch quarrying business.
1 Mobiscreen Contractor Line: The "all-rounder"
The Contractor Line screen plants can be used very flexibly, both with regard to the material to be screened, and to the operating location. Notwithstanding their high outputs, they can be easily transported and can thus also be used efficiently for smaller quantities. The smallest plant is the Mobiscreen MS 12 Z. This double-deck screen plant, which is designed for coarse material, is extremely compact both as a grizzly and a classifying screen, and has a screening area of 1220 mm x 2750 mm (upper deck), making possible feed capacities of up to 200 t/h. The MS 13 Z (Fig. 1) and MS 15 Z models are also screen plants designed for coarse material and are equipped with two screening decks and with their larger screening areas cover higher output requirements of up to 400 t/h. The MS 14, MS 16 and MS 19 models are traditional classifying screens, which are available in a double-deck and triple-deck version (only MS 16 and MS 19). With screening areas from 4.2 m2 (MS 14 Z) up to 9.3 m2 (MS 19 Z or MS 19 D), material removal capacities of up to 500 t/h are possible (Fig. 2).
2 Mobiscreen Quarry Line: Robust and efficient for quarrying
The Quarry Line plants are primarily characterised by their extremely robust design, making them ideal for intensive and permanent use in the stone quarry. The plants are particularly interesting for linked machine combinations because, similar to the crushing plants in the Kleemann Quarry Line, they have diesel-electric drives. It is also quite practical to install an electrical interlocking device with upstream crushing plants. Two design concepts are also represented here. The MS 18 Z and the MS 20 Z are coarse screening plants and, just like their "smaller" brothers and sisters in the Contractor Line, are well suited for the primary screening of coarse rock. However, when it comes to the screening of large quantities of small and diminutive grain sizes, the only option is the triple-deck screening plants MS 20 D (Fig. 3) or MS 23 D. For example, the MS 23 D has a screening area of 18.4 m2 across the upper, mid and lower deck, and thus achieves total screening outputs of up to 800 t/h.
3 Service from a single source
In addition to all the main advantages these plants possess, huge importance is attached to another aspect: After-sales services. Similar to the crushing plants, the customer can count on the well-known good service of the Wirtgen Group subsidiaries and dealers. Head of Sales at Kleemann, Markus Wörner notes: "The customer receives the service for his crushing plants and screen plants from a single source and is thus also in good hands following the purchase."