Kleemann presents new jaw crusher and new screen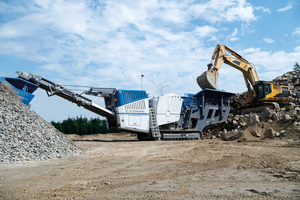 Quelle/Source: Kleemann
1 Der neue mobile Backenbrecher MOBICAT MC 120 Z PRO ist robust und leistungsstark • The new MOBICAT MC 120 Z PRO mobile crusher is robust and highly efficient
Quelle/Source: Kleemann
A t this year's Hillhead show from 26 to 28 June in Buxton/UK, Kleemann is presenting the new MOBICAT MC 120 Z PRO mobile crusher and the new MOBISCREEN MS 953 EVO mobile screen.
Rugged MOBICAT MC 120 Z PRO jaw crusher for tough working conditions in the quarry
With the MOBICAT MC 120 Z PRO mobile jaw crusher, Kleemann is presenting its latest development for operation in quarries. Thanks to the powerful jaw crusher, the rugged and high-efficiency machine achieves an hourly crushing rate up to 650 t. For optimum crusher utilization, the continuous feed system is applied. It regulates the material feed depending on the material flow. At the same time, the crusher is designed to be economical with its diesel-electric drive and can be optionally driven with external power input. The power generator can power additional downstream equipment, such as a screen or stockpiling belt.
To achieve effective prescreening of fines, the MC 120 Z PRO is equipped with an independent double-deck primary screen featuring an extra-large screening area of 3.5 m². With the optional crusher unblocking system, any material that gets stuck can be easily loosened up so that the crusher remains operational at all times. In addition, the crushing rate can be optimized by means of adjustment of the crusher speed. The machine version with discharge chute protects the crusher discharge belt against sharp-edged rocks.
Versatile in use: MOBISCREEN MS 953 EVO mobile screen
The EVO series machines feature compact size, easy transportability and flexibility. This also counts for the new mobile sizing screens in the MOBISCREEN EVO line. The exhibited MS 953 EVO triple-deck screen is suitable for quarry products and recycling applications at different sites. The screen is very efficient and, with a screening area of around 9.5 m² on the upper screen, processes up to 500 t/h. As in all EVO machines from Kleemann, all components can be easily accessed to facilitate maintenance. So, for example, changing the screening surface on the lower deck is comparatively easy thanks to the lowerable fines discharge belt.
The screen can be operated with a mobile control panel, which can be mounted at three different points on the machine. Consequently, best possible viewability of the executed plant functions is guaranteed. All machine functions are activated by means of an automatic start – without each side belt having to be activated individually. From the control panel, data on the machine operation can be viewed. In combination with Kleemann crushers of the PRO and EVO series, the screens operate particularly efficiently. With the optional linking of the machines, the emergency stop function and therefore safety over all crushing and screening stages can be guaranteed.
Stand Q1