New major order for MFL from Russia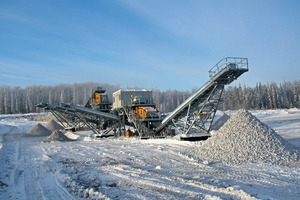 (Photo: MFL)
Dem Vorgängerprojekt folgte prompt ein neues. Mit Dezember 2011 erfolgreich abgeschlossen und in Betrieb genommen: die Brech- und Siebanlage für Sibirsky Magnezit (ein Unternehmen der Group Magnezit) mit einer Leistung von 120 t/h # The succssesful predecessor-project: Concluded and put into operation in December 2011: the crushing and screening plant for Sibirsky Magnezit (an enterprise of Group Magnezit) with a capacity of 120 t/h
(Photo: MFL)
In the end of February 2012, the Division Mineral Pro­cessing of the company MFL landed one of the biggest orders. For the Kombinat Magnezit–SATKA, a stationary plant for the "stowage complex" will come into being in South Ural till the end of 2013. This large-scale project consists of three parts: a crushing and screening plant, a grinding-mixing plant, as well as a cement unloading station for railway cars with a silo works.
The term "stowage" comes from mining and refers to the staggered arrangement of the pits in underground mining. To avoid that these pits choke after mining, they are re-filled with concrete produced in the grinding-mixing plant.
In the mineral processing plant, dolomite is crushed from 0/1000 mm to a grain size of 0/20 mm and classified. The crushed dolomite (0/20 mm) is fed to the two ball mills and ground and mixed to approximately 0/2 mm by adding cement and water. The concrete mixture from the overflow ball mill comes to the stowage complex via a storage tank and pumps. From the cement unloading station, cement is pumped into the silo works and then from this silo works into the intermediate silo of the grinding-mixing plant. Thanks to the integrated lorry loading station the cement can be loaded into silo lorries for further construction projects in the plant. Agglomeration of the cement after longer storage times in the silos is avoided due to internal cement transfer by pumping in certain intervals.
The client "Kombinat Magnezit Satka" is a magnesite mining company and belongs to "Group Magnezit", where crushing and screening plants as well as roll crushers and cone crushers made by MFL are already being operated successfully (Fig.). The follow-up order "stowage complex" is not only a wonderful success for the company MFL but also for the companies Christian Pfeiffer Maschinenfabrik and SBM Mineral Processing – both companies belonging to the MFL-Group – as their components are integrated in this large-scale project as well.