Atlas Copco
Atlas Copco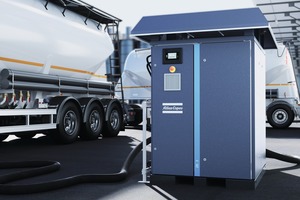 Quelle/Source Atlas Copco
Die neuen ZE-3-Niederdruckkompressoren von Atlas Copco eignen sich zum Entladen von Schüttgut aus Lkw-Tanks sowie andere Förderzwecke • Atlas Copco's new ZE 3 low-pressure compressors Atlas Copco are suitable for unloading bulk materials from truck tanks and for other conveyor applications
Quelle/Source Atlas Copco
A‌t the Powtech trade fair, Atlas Copco is presenting new low-pressure compressors, as well as screw and lobe blowers for energy-efficient pneumatic conveyor systems, e.g. for applications in the construction materials sector. The ZE 3 S units are making their world debut at the trade fair. The ZE 3 S deliver compressed air in the low pressure range from 1.5 to 2.5 bar gauge and are available with ratings from 37 to 90 kW. "They are about 7 % more efficient than their predecessors," says Dirk Villé, General Manager of Atlas Copco Kompressoren und Drucklufttechnik GmbH in Essen. "We have designed these units for a wide range of industrial applications in the fields of pneumatic conveyor systems and bulk materials handling."   Villé sees potential customers especially in the cement, gypsum and glass industries, food and beverage production and the pharmaceutical industry. The units can also be used for unloading trucks carrying construction materials or flour, for example.
Atlas Copco has installed the latest oil-free screw elements in its ZE 3 S compressors. They deliver air which is up to 100 % oil-free in accordance with ISO 8573-1, class 0, for critical applications at extremely low life-cycle costs. The gear housing is extremely sturdy and the motor is fully encapsulated to degree of protection IP 55. It is therefore protected against penetration by dust. Thanks to the innovative design of these units, the initial investment is even lower than for the previous ZE and ZA compressors.
Thanks to the compact plug and play design, the new ZE 3 S compressors are suitable for a variety of indoor and outdoor applications. Customers can change the scope of supplies flexibly for example by ordering a compressor without a motor or starter if they are OEMs and want to integrate the compressor into their own systems. The compressors are designed for operation at ambient temperatures between -20 °C and +50 °C.
This year, the new ZS 4 VSD+ series screw blowers, with ratings from 37 to 90 kW, will be another highlight of Atlas Copco for the industry. For applications up to 1.5 bar, the ZS 4 VSD+ screw blowers, which are 10 % more efficient than their predecessors, are ideal. In Nuremberg, Atlas Copco is also exhibiting its economical ZL 2 VSD lobe blowers. Like the ZS 4 VSD+, the lobe blower delivers TÜV-certified absolutely oil-free compressed air in accordance with ISO 8573-1 class 0. The blower is supplied as a unit complete with controller and inverter.