BHS Australia established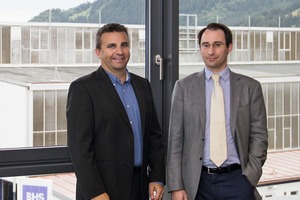 Quelle/Source: BHS-Sonthofen GmbH
1 Geoffrey Lee and Dennis Kemmann, Managing Director of BHS-Sonthofen GmbH at a meeting at the Sonthofen Plant
Quelle/Source: BHS-Sonthofen GmbH
The demand for mixing, crushing, and recycling machines from BHS-Sonthofen in Australia is continuously increasing. In order to meet the increasing demand for consultation and service, BHS has collaborated with Gill Wedmore to set up the Joint Venture "BHS-Sonthofen (Aust) Pty Ltd" with headquarters in Newcastle/New South Wales, and can now offer sales, professional consulting, and quick on-site service to its customers "down under". The newly established company employs a service team, who have been familiar with BHS machines for many years, and is equipped with several test machines and a spare parts warehouse. Wedmore has been operating BHS-Sonthofen mixers for many years in his own company BFG Group Pty. Ltd. He will be heading as Chairman (Fig. 1).
BHS Australia will be actively marketing products for the mixing and crushing business sectors in Australia. BHS also sees great potential on the fifth continent in recycling waste material and scrap metal. A current example: A BHS Rotor Impact Mill of type RPM at a waste treatment plant in the state of New South Wales crushes used glass, which is used to replace sand as an aggregate for concrete. Sand is in short supply in the Sydney area.
Geoffrey Lee has been working as Business Development Manager for BHS Australia since August (Fig. 2). He brings with him extensive knowledge of machine technology in mining, the construction industry, and recycling. The company's own spare parts warehouse near Newcastle allows it to drastically reduce delivery times. Moreover, its presence in Australia gives customers and interested parties a strong sense of security before making their investment decisions. They can now use test machines for trials in their own country. Dennis Kemmann, Managing Director of BHS-Sonthofen GmbH, is convinced that the new joint venture will greatly benefit its customers in Australia.