Bau-Kraus in Fröndenberg relies on proven technology from Christophel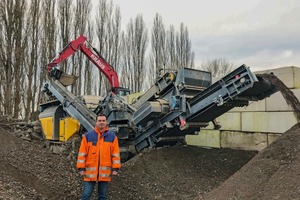 Quelle/Source: Christophel
Björn Kraus´ neuer RM90Go! mit Nachsieb und Überkornrückführung • Björn Kraus' new RM90Go! with secondary screen and oversize recirculation
Quelle/Source: Christophel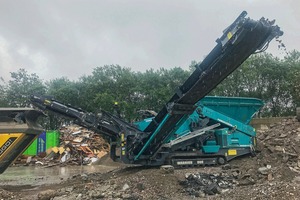 Quelle/Source: Christophel
Die raupenmobile Powerscreen Warrior 800 auf dem Betriebsgelände von Bau-Kraus • The track-mounted Powerscreen Warrior 800 at the operating site of Bau-Kraus
Quelle/Source: Christophel
W‌hen, in 2001, Björn Kraus founded his one-man gardening and landscaping business in Menden, he had no idea where it would all lead to. After just five years, he added another mainstay to his business – road construction. In 2013 followed the move to Fröndenberg and the new 8 000 m² company site. Here there was ample space for the next expansion: processing of the collected materials and their storage were realized.
In the early days, Björn Kraus regularly hired screening and crushing equipment to complete the new jobs. Finally, in 2016, he invested in his own construction waste processing equipment. Simon Moers, the responsible sales executive at Christophel, helped Kraus make the right choice. The machine had to be mobile, ideal for processing asphalt as this makes up around 50 % of the material collected. Operation had to be very simple and the machine had to be transported with the existing 3-axle low loader. To meet these requirements, focus fell on the Rubble Master RM90Go!. The track-mounted impact crusher with an inlet measuring 860 x 650 mm was perfect here as the transport height of just 2990 mm and weight of 23.6 t fitted perfectly to the low loader. In addition, the high throughput rate up to 200 t/h depending on the feed material met the need for efficiency and cost effectiveness.
"Soil remediation" was the next step two months later. For this purpose, the company needed to buy a screen to be able to produce 0 – 20 mm soil free of stones. The track-mounted Powerscreen Warrior 800 was brought to the company's operations site and 20 mm soil was screened free of stones – unspectacularly, trouble-free at a high screening rate. Other features of the Powerscreen also impressed. To start with, the 18 t machine was positioned upstream of the new Rubble Master RM90Go! to act as a primary screen and increase the efficiency of the crusher. Then it was moved downstream of the crusher as a secondary screen to produce three clean and qualified sales fractions, which would increase revenue. Finally, with the Powerscreen Warrior 800, the collected soil can now be screened at 8 instead of at 20 mm. This convinced Björn Kraus straightaway as he was immediately able to produce a product that he had previously always had to buy in.
The demand for hiring the crusher and screen grew in a very short time and it became increasingly necessary to produce qualified material grades on the construction sites. To meet the persistent demand, Björn Kraus replaced his RM90Go! at Steinexpo 2017 with a new machine, with the option of attached screen box and oversize recirculation.
In the meantime, the company employs 36 people and has an impressive fleet of machines: 16 lorries, 2 chain excavators, a mobile excavator, 7 mini-excavators, 4 wheel loaders, 2 low loaders, 2 rollers and a finisher are listed by Björn Kraus in his inventory. And naturally his processing equipment from Christophel. The complete fleet of machines together with operatives is also available for hire. Björn Kraus is satisfied with his business relationship with Christophel. When questions crop up, answers are given – no matter whether it is early or late or even sometimes on the weekend. And he also stressed he good supply of replacement and wear parts.