Belt fastening made easier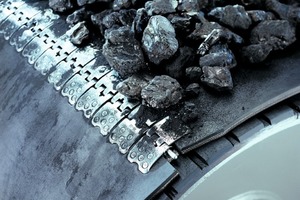 Quelle/Source: Flexco Europe GmbH
1 Mit mechanischen Verbindern von FLEXCO lassen sich Wartungs- und Reparaturarbeiten an Bandanlagen vereinfachen und die Wartungskosten senken • With mechanical fasteners from FLEXCO, maintenance and repair of belts can be simplified and the maintenance costs reduced
Quelle/Source: Flexco Europe GmbH
With its mechanical conveyor belt fasteners, FLEXCO Europe GmbH provides solutions that the operators of conveyors can apply to substantially simplify repair and maintenance (Fig. 1). The fasteners can be fitted simply, quickly and irrespective of the weather conditions. This reduces downtime considerably and increases productivity. At easyFairs SOLIDS Dortmund 2014 the company presented these innovative systems.
To repair conveyor belts, these are usually vulcanized. This can often take four to six hours. For this purpose, the end of the belts must be prepared and specially treated. Sometimes it is even not possible to connect old and severely worn belts. With the mechanical fasteners from FLEXCO on the other hand, they can be spliced – irrespective of belt width and thickness – in less than an hour. At Schüttgut/Solids 2014, FLEXCO presented fastener types for belts with thicknesses between 3 and 30 mm and for belt strength ratings up to 2500 N/mm. To maximize the lifetime of the joint, FLEXCO always chooses the material best suited to the environmental and application conditions. The fasteners are available as release or non-release variants.
Because fitters cannot cut the belt safely, quickly or accurately with a cutter knife, FLEXCO supplies various electrically powered and manually operated belt cutters. These enable clean cutting of the belt ends at right angles. Consequently, the operatives can optimally fit the belts and are less prone to injure themselves.
Carry-back, that is material that sticks to the belt after it has already passed the transfer point, is a not inconsiderable cost factor for belt conveyor operators. In Dortmund, FLEXCO also presented belt cleaners (Fig. 2). These are fitted at the material discharge of the belt and remove any material sticking to it. They consist of a synthetic or carbide blade and a clamping system that ensures optimum contact of the blade with the belt. Often a system consisting of various cleaners is used: a primary cleaner for removal of coarse material and one or more secondary cleaners for final cleaning. This increases the cleaning efficiency of the belt cleaners, which in many cases can remove more than 90 % of the carry-back.