Heavy haulage
Business expanded with 70 t telescopic crawler crane from SENNEBOGEN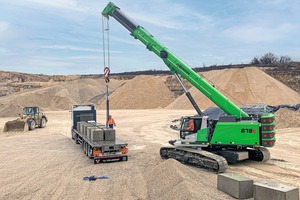 © Sennebogen
1 The all-terrain telescopic crawler crane is perfect for working under demanding jobsite conditions
© Sennebogen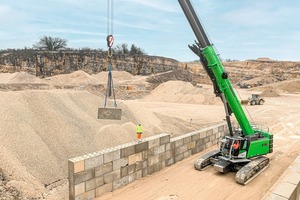 © Sennebogen
2 After unloading the concrete blocks, the telescopic crawler crane also takes over the construction of the temporary walls to create separate storage areas for the material mined in the quarry
© Sennebogen
T‌ransconvoi, a company based in Burgundy/France, expert in special and heavy haulage, is expanding its business to include lifting activities by investing in the 70 t telescopic crawler crane SENNEBOGEN 673 E. The company's aim is to be able to offer its customers complementary services in addition to transport from now on: The lifting and precise movement of heavy loads in demanding environmental conditions.
Transconvoi specializes in transporting exceptionally large and heavy loads. The French heavy haulage company traditionally operates in the Grand-Est and Bourgogne-Franche-Comté regions, but also carries out its heavy-load transports throughout France if required. With the greatest expertise, the company serves customers in industry as well as in quarrying, transporting even complete machines such as crushers and mills. In addition to heavy haulage, Transconvoi now also offers lifting services, using on the flexible 70 t telescopic crawler crane SENNEBOGEN 673 E.
For his customers in quarries, on demanding construction sites or in industry, David Bredillet, the managing director of Transconvoi, was looking for a particularly versatile crane and came across the flexible machine concept of telescopic crawler cranes from SENNEBOGEN. It was important to the managing director that the telescopic crane could travel under load, had load tables for a full 360 ° slewing angle, and could also telescope under load. After carefully examining the solutions offered by SENNEBOGEN and especially the "heart" of the product range, the 673 E, Bredillet was completely convinced: "SENNEBOGEN's 70 t telescopic crawler crane 673 E is perfectly designed for the services I would like to offer my regular customers from now on." The crane's additional equipment, including a skylight with bulletproof glass, a second, 50 kN powerful winch, a 5 t auxiliary jib and an 8 m fly jib that can be bolted to the base boom when not in use, is therefore a matter of course to be optimally prepared for his clients' demanding heavy-duty operations.
"Thanks to its modularity and short setup time, the 673 E telescopic crawler crane is easy to transport and immediately available upon arrival at the construction site. It is also capable of moving with heavy, indivisible loads on the hook – exactly what my customers are looking for. With this crane's exceptional ability to master even the most difficult terrain, I want to offer an alternative to the large AT and RT cranes, because for these machines, access to the plants, which in my case are usually located on difficult and spatially restricted terrain, is not as easy as for the telescopic crawler crane," he says.
After a few days of instruction and training at the site of the VINCENT Group in Cernay, he adds: "The great support from the SYGMAT team has only confirmed my choice. My company is fully operational for its first combined transport and lifting projects this year."
The first assignment is not long in coming. Right in the neighboring region of Bourgogne Franche-Comté, a customer in the mining industry commissions Transconvoi to transport large, Lego-like concrete blocks so that they can then be unloaded directly afterwards and lifted into their final position. For the long-time customer, which mines, processes and sorts raw material from its quarry, temporary walls are to be raised to create separate storage areas for the mined material. These cells will be used to temporarily store the material types according to the process step they are in. With its brand new 70 t telescopic crawler crane SENNEBOGEN 673 E, Transconvoi can now offer a "turnkey" solution for jobs like this, including transport, as well as lifting and positioning of the load.