CEMEX invests in a cone crusher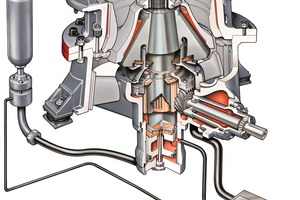 2 Schnitt durch Kegelbrecher mit Brechwerkzeug aus speziallegiertem Manganstahl • Section through the cone crusher with the crusher tool made of special alloy manganese steel
CEMEX Deutschland operates the former Taunus quartzite plant on an around 40-hectare site in Wehrheim. CEMEX's Gravel & Chipping South/Southwest Division includes 16 operations in the German states of Bavaria, Hesse, Thuringia and Alsace. The first mining rights in the "Steinernes Meer" range of mountains were awarded to the Taunus quartzite company back in 1899.
With 14 employees at, Cemex extracts around 700 000 tpa rock its Wehrheim site (Fig. 1). The extracted products are used for hard surfacing and road construction, the concrete and concrete products industry as well as for the sand-lime brick and refractories industry, processed in compliance with relevant requirements and standards. Special high-quality chippings, for example like the quartzite chippings used to lighten the colour of asphalt surface courses are sold all over Germany. In darkness or bad weather, the lightness of the quartzite chippings improves visibility and therefore contributes to traffic safety.
Work safety is a priority at CEMEX every day. The newly defined blasting direction and the new Sandvik CH660 cone crusher (Fig. 2) are responsible for the reduction of plate formation and material bridging in processing of the material. A crusher from a competitor previously integrated in the production process had to be replaced. Based on its long-standing contact to Sandvik, the company soon got talking. It specified that the future cone crusher should produce a higher percentage of 0/32 mm size particles. The background to this was that a finer crusher tool was to be used in the downstream crushing stage to increase the percentage of 5/8 and 8/11 mm grades. The integrated ASRi control has the advantage that when the crusher is fed with sometimes very different rock, you can keep a constant eye on the material flow, the energy consumption and the wear from the display. Overall planning was coordinated in cooperation with Gerwin, the company responsible for the structural steel work and any necessary modifications. Within 14 days, the refit work on site had been completed and the new Sandvik CH660 cone crusher was commissioned (Fig. 3).
The expected success: lower time requirement, higher throughput rate, less material in circulation, was confirmed directly after the run-in phase. "With a throughput rate of around 300 t/h, a 30- to 40-%-higher amount of the planned asphalt grade could be achieved," says Production Manager Thomas Ziegler. In line with the requirements of the application, the crushing chamber CX/D is used – this is one of nine possible crushing chamber variants. In the future, the much finer discharge will allow the existing downstream H4800 gyratory crusher to be fitted with a finer crushing chamber, from M at present to MF. Thanks to the selected crushing chamber configurations of the Sandvik crushers, this can be done without any great expense.