Diversity
Mason Brothers keep on crushing with Sandvik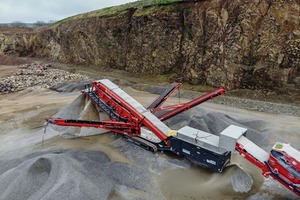 Quelle/Source: Sandvik
1 Ein mobiler Brecher-, Sieb- und Grobsiebzug von Sandvik im Einsatz im Rhyndaston-Steinbruch • A mobile crushing, screening and scalping train from Sandvik in operation at Rhyndaston quarry
Quelle/Source: Sandvik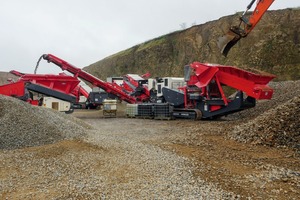 Quelle/Source: Sandvik
2 Der Sandvik Brecher-, Sieb- und Grobsiebzug umfasst ein QA451 Doppelsieb mit Dreifach-Deck, einen Kegelbrecher QH331 mit hängendem Sieb und aktuell einer QE341 Grobstück-Siebanlage mit Finger-Deck • The Sandvik crushing, screening and scalping train comprises of a QA451 triple deck Doublescreen, QH331 cone with hanging screen, and currently, a QE341 scalper with finger deck
Quelle/Source: Sandvik
P‌embrokeshire based Mason Brothers Quarry Products has a longstanding relationship with Sandvik which goes back to the 1990s. The family run company now produces in excess of 100 000 tons of high quality aggregate from its Rhyndaston quarry near Haverfordwest, with a mobile crushing, screening and scalping train from Sandvik playing a key role in ensuring that Mason Brothers' customers get the materials they need.
The company has carved out a niche in supplying sand and aggregates throughout Pembrokeshire, Ceredigion and Carmarthenshire for over 25 years. Due to high demand, many of its varied products are also supplied further afield. "We run six tipper trucks out of the quarry and now produce over 100 000 t of mixed aggregates," stated company managing director Alun Mason.
The wide range of products produced at the quarry ranges from type 1 sub base to ornamental and building stone. The company also supplies a range of other products including volumetric concrete, concrete blocks, portable gabion baskets, drainage pipe, and is able to deliver materials both loose or bagged dependent on customer requirements. As well as its flag ship operation located at Rhyndaston Quarry, Haverfordwest, the company also works out of other quarries, including its new shale quarry which is also located in Haverfordwest.
Demanding rock
Most of Mason Brothers' material is produced at its Rhyndaston quarry. "The rock at the quarry is a metamorphic granite, with its actual name being Royal Lite Hornfeldt. It breaks reasonably easy, but it is quite abrasive which makes it hard wearing on any equipment we use," explains Alun, who continues: "This means we sort out equipment that gives us the tonnages that we require, but at the same time keep our costs to a minimum."
A key part of the production process at the Rhyndaston quarry is Mason Brothers' crushing, screening and scalping train supplied by Sandvik Mobiles. This comprises of a QA451 triple deck Doublescreen, QH331 cone with hanging screen, and currently, a QE341 scalper with finger deck. The highly productive and efficient nature of the set-up is explained by Alun: "Two boys there run the complete quarry. They primary crush at face and then scalp off the material. We produce a 25 – 100 mm cone feed from the face which we then stockpile at the rear of the cone crusher. This is then moved across the quarry with an excavator loading the cone for secondary crushing."
Cone crushing developments
"They're always developing and improving things," says Alun of one of Sandvik's latest developments which is proving to be essential for his quarrying operation. The QH331 cone crusher with hanging screen was launched at Hillhead in 2016, and its features have proved to be particularly of benefit to Mason Brothers. "Obviously the hanging screen is efficient; we don't re-circ a lot with it as we tend to try and use all the products the machine produces. Another good thing is that you haven't got crusher backing to leave 'cure'. We change between 'matt' and 'concave' (on the cone) quite regularly, so we can just change and get on with a day's work."
The QH331 draws heavily on Sandvik's expertise in cone crusher technology, which as Alun explains has been put to good effect. "We try to keep the shape of the end product which is something the cone has enabled us to do. We only primary and secondary crush, we don't tertiary crush at all, so we have to get that shape right in two stages."