Commissioning of overburden system with bucket wheel excavator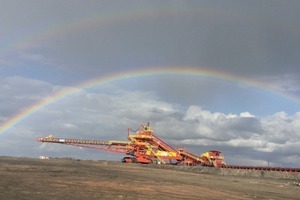 Quelle/Source: Tenova TAKRAF
1 Tenova TAKRAF Absetzer im Tagebau Zhahanaoer in China • Stacker from Tenova TAKRAF in the opencast mine of Zhahanaoer in China
Quelle/Source: Tenova TAKRAF
Tenova TAKRAF has finished the delivery and erection of an overburden system with bucket wheel excavator for the opencast mine of Zhahanaoer in Inner Mongolia/China (Fig. 1). The system, consisting of the largest combination of bucket wheel excavator-belt conveyor system-stacker in Asia, was handed over to the end customer CPI Mongdong Energy in November 2014. The exacting performance test of the overall system had already been concluded beforehand. The achieved parameters exceeded the expectations of all parties involved and confirmed the capacity and reliability of the plant.
The overall system consists of a bucket wheel excavator, type SRs 2000, with a rated capacity of 6600 m³/h including loading facility, a belt conveyor system of 7750 m length comprising 5 individual belt conveyors and a compact stacker including tripper car on rails. The maximum height of stripping overburden amounts to 30 m. Despite a total weight of the excavator of more than 3000 t, the plant has a lower ground pressure than a dozer D11. So as to be able to cope with the performance peaks of the excavator, the belt conveyors and the stacker have been designed for 7900 m³³/h (Fig. 2). The bench belt conveyor of the excavator as well as the dumping belt conveyor have been designed as shiftable belt conveyors.
The project was started in 2009 when placing the order for the bucket wheel excavator. The orders for the stacker and the belt conveyor system followed in 2011. Altogether the turnkey project comprises the design, delivery, transport, site erection, commissioning as well as the performance test of the overall plant.