Contactless vibration measurement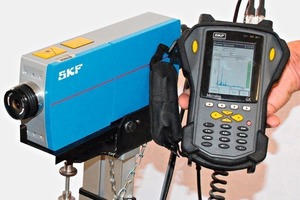 Quelle/Source: SKF
Zusammen mit der SKF Microlog Reihe ermöglicht das neue Laser Vibrometer MSL-7000 auch die mobile Zustandsüberwachung von Messstellen, an denen viele herkömmliche Sensoren scheitern • Together with the Microlog series from SKF, the new laser vibrometer MSL-7000 also enables the mobile condition monitoring of measuring points where many conventional sensors fail

Quelle/Source: SKF
The new laser vibrometer from SKF is a compact digital device for contactless vibration measurement. With the MSL-7000 the service technicians get an innovative, flexible and rugged auxiliary device for the measurement and detection of vibrations in the most different fields of application (Fig.).
The MSL-7000 was developed for the requirements of a growing number of customers who want to carry out a noise test, in particular for noise-critical products, such as blowers, electric motors, pumps or household appliances. The device, which measures the acoustic vibrations between 0.2 Hz (very slow revolutions) and 22 kHz, can easily be integrated into testing devices and existing monitoring systems. Together with the Microlog series from SKF, the MSL-7000 is also suitable for mobile condition monitoring. In this combination it is used for contactless measurements, which so far have not been possible, for instance on hot surfaces or through glass. Basically, it makes measurements easier at points difficult to access.
The rugged and compact design of the vibrometer simplifies the installation and operation. Since contactless measurements are possible with the MSL-7000, the wear on the device is clearly reduced and, consequently, it is efficient and cost-effective. The MSL-7000 is suitable for quality assurance in manufacturing lines and for mobile condition monitoring, e.g. for portable vibration measuring and data acquisition devices of the Microlog family from SKF.