Increased safety, lower costs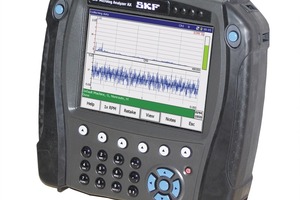 Quelle/Source: SKF
1 Der SKF Microlog Analysator AX ist ein voll ausgestatteter vierkanaliger Hochleistungs-Datensammler und FFT-Analysator mit großem 6,4-Zoll-VGA-Farbdisplay • SKF's AX Microlog analyzer is a fully equipped four-channel high-performance data collector and FFT analyzer with a large 6.4-inch VGA colour display
Quelle/Source: SKF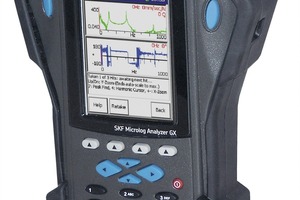 Quelle/Source: SKF
2 Die Analysatoren der GX-Baureihe können bis zu vier Messkanäle gleichzeitig erfassen • The GX series analyzers can record up to four measurement channels simultaneously
Quelle/Source: SKF
Condition monitoring of machines, processing and production plants is gaining increasing importance in many companies. It can be used for the detection of problems before these can lead to faults, costly downtime or even to hazards for people and the environment. It therefore not only increases safety, but substantially lowers the costs for repair and maintenance.
With the data collectors and analyzers in the Microlog series, SKF provides reliable, high-performance solutions for mobile condition monitoring. The portable devices collect and process a large number of different data. This facilitates preventative maintenance across all branches such as the power, chemicals and pharmaceuticals, aerospace or automotive industries.
SKF Microlog analyzers collect both dynamic and static measured data from almost every source – from magnetically mounted to permanently installed vibration sensors. They can also measure temperatures with a contactless infrared sensor or a temperature sensor. The devices are equipped with rugged high-speed processors and large storage capacity. They can therefore be used in combination with modern Computerized Maintenance Management Systems (CMMS).
The product family comprises three different models: the SKF AX Microlog Analyzer is a fully equipped four-channel high-performance data collector and FFT analyzer with large 6.4-inch VGA colour display (Fig. 1). It enables simple, efficient condition monitoring based on the analysis of vibration signals and process variables. State-of-the-art electronics ensures extremely fast and precise data collection. The GX series analyzers can record up to four measurement channels at the same time (Fig. 2). Further, they impress with their versatile application and a rugged, dust and splash-proof design (IP 65). The devices have an intuitive graphic user interface that is easy to read on the ¼-VGA colour display in all light conditions. The internal flash memory can be easily increased with additional SD cards. The SKF CMXA 51-IS Microlog Analyzer (Fig. 3) is an intrinsically safe instrument especially for use in explosion-risk areas to ATEX Zone 0 – for example, in petrochemicals and pharmaceuticals. In addition, the GX and AX series are also available with ATEX Zone 2.
The modular design of the SKF Microlog Analyzers enables the user to flexibly adapt and extend the functional range of the devices. For this, numerous analysis modules for certain measurement types are available, e.g. a route, analyzer and balancing module as well as acceleration and deceleration, frequency response or spindle test modules. These are combined in preconfigured kits to meet various requirements, but they can be installed separately.
With the SKF @ptitude Analyst software, the user can utilize extensive diagnostic and analysis functions. It also provides the interface to the data collector with which the generated measurement routes and data are transferred. In the latest version, the analysis and reporting manager has been integrated in @ptitude Analyst. Consequently, other more in-depth analysis possibilities are available in just one software environment.
To support the user as optimally as possible in condition monitoring, SKF offers Product Support Plan, an extensive service package. This includes the technical support, regular free updates and upgrades as well as preventative maintenance. The Product Support Plan can be arranged both for the software and hardware. In addition, extensive training courses are available (www.skf.de/seminare), in which the participants can widen their practical expertise.