New dust collection technology for abrasive dust applications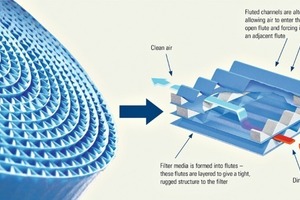 1 PowerCore® Filter-Packs kombinieren die geschützte Ultra-Web® Nanofasertechnologie mit neuesten Erkenntnissen der Filtermedienverarbeitung • PowerCore® filter packs combine proprietary Ultra-Web® nanofibre technology with new media packaging expertise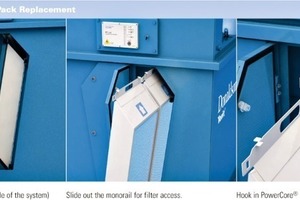 2 Die Filter-Packs haben ein geringes Gewicht und können einfach von einer Person gehandhabt werden • The filter packs are light weight and can easily be handled by one person

Donaldson releases a new dust collector range with innovative PowerCore® technology. The PowerCore® VH series for abrasive dust applications complements the existing PowerCore® CP series, which is especially well suited for fluffy and fibrous dust applications. The PowerCore® dust collectors handle high airflow, heavy dust loading, challenging particulate and fit into the smallest places. The filter changeout is easy, quick and astonishingly clean compared to traditional filter bags and cartridges – leading to an easy and safe maintenance.
In comparison to conventional dust collectors, the units using PowerCore® technology are up to 70 % smaller. The core of the technology are the new PowerCore® filter-packs. The filter-packs take proprietary Ultra-Web® nanofibre filter media and form it into flutes that collect particles without depth-loading (Fig. 1). The new Donaldson dust collection technology allows handling more air through the same amount of media than conventional filter bags or cartridges and therewith enables the extreme downsizing.
The filter-packs are light weight and can easily be handled by one person (Fig. 2). At the same time the filtration efficiency could considerably be increased. Independent lab tests confirm: PowerCore® filter-packs provide 78 % fewer emissions than standard polyester bags. All PowerCore® dust collectors include an innovative cleaning mechanism with pulse cleaning technology to achieve the strongest cleaning energy and an effective dislodging of the dust from the fluted shape filter-packs. The resulting pulse flow effectively covers the entire media pack, improving filter efficiency, keeping pressure drop low and increasing operational life.
The PowerCore® CP series is perfectly matched to fibrous and fluffy dust as well as venting and bulk handling applications (Fig. 3). The CPC dust collectors (stand alone units), which can be ducted to many different installations, have been redesigned to further enhance the ease of maintenance. The CPV (bin vent unit) can be used on silos, conveyor transfer points, conveyor discharges, blenders and mixers. The range is available for volume flows from 1200 m3/h to 27 000 m3/h.