Continental
Continental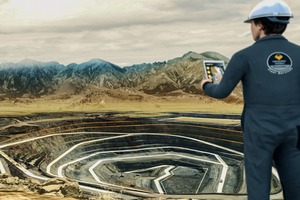 Quelle/Source: Continental
1 Beim ContiLogger vereinen sich Hardware, Software und Manpower zu einem individuellen Beratungsansatz • The ContiLogger combines hardware, software and manpower to an individual consulting approach
Quelle/Source: Continental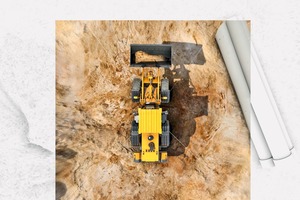 Quelle/Source: Continental
2 ProViu 360 von Continental erstellt aus den Bildern von vier Fischaugenkameras eine virtuelle Vogelperspektive der Baumaschine • ProViu 360 von Continental creates a virtual bird's eye view of the construction machine from the images of four fisheye cameras
Quelle/Source: Continental
Technology company Continental is actively driving the development of digital solutions for the construction and mining sectors of the future. At bauma Continental will be exhibiting current innovations, technological developments and services.
The technology company will be focusing on service and consultancy concepts allowing drivers, fleet managers and operators of construction sites, quarries and sand and gravel pits to measurably increase their productivity. The portfolio also includes predictive maintenance concepts for greater operational reliability, solutions for reducing downtime and systems to enable drivers and fleet managers to navigate the flood of information. All this is underpinned by sensors that monitor the fundamental components in machinery and vehicles. The company supplies assistance systems and solutions for monitoring surroundings in response to the trend towards fully automated vehicles and machines.
The customers benefit from the fact that Continental offers a one-stop shop for complete system solutions. Starting with the know-how for components such as tires and air springs, then moving on to sensors that monitor them and the electronic systems, software programming and connectivity solutions to process the data, right through to fleet management software and the driver's workplace where this data is processed and displayed. Together, these yield comprehensive, groundbreaking solutions for efficient processes, a safe working environment and effective machine handling in the construction and mining industries.
Optimized route management and perfect tire use
Continental is exhibiting its extensive tire portfolio – EM-Master for wheel loaders, RDT-Master for rigid dump trucks and Conti CrossTrac for trucks – for different applications on construction sites, in quarries and in sand and gravel pits at bauma. In its new ContiLogger consultancy concept, Continental is also bringing together tires, hardware, software and data into an innovative service approach. The technology company uses a range of components in order to capture data such as tire pressure, tire temperature and vehicle and topographic data in real-life applications. With the aid of the data collected, which either undergoes one-off analysis by the Continental field engineer or is continuously digitally captured by the user, recommendations can be developed for optimized route management, loading or tire use. Consequently, users can not only identify whether a tire is being overloaded or underused and thus extend tire lifetime but can also adapt operational processes so that overall productivity is increased.
Efficient and safe – remote condition monitoring systems for conveyor belts
The issue of service remains a focus for conveyor belt systems. Continental ensures safe and efficient operations especially by means of remote condition monitoring systems. Sensors monitor every movement of the conveyor belt and inspect the surfaces or the integrity of the steel cords in real time. Databases store the information, while algorithms analyze it and know when the belt requires servicing. In this way, Continental is laying the groundwork for new business models such as pay-per-ton or the predictive maintenance of components or systems.
HD digital camera system aids driver
Continental will be exhibiting the second generation of the ProViu 360 surround view system at bauma. The digital camera system, which helps in avoiding accidents and incidents, now provides images in HD resolution for the first time. The camera resolution has increased by as much as a factor of three. The system assists drivers of construction and mining vehicles, showing them all the important data on an uncluttered display. This is made possible by the four-megapixel cameras and a further developed control unit. The new generation of the ProViu 360 system does not just deliver bird's-eye images. The digital camera system can be adapted to the relevant application field to support a very wide range of activities. It is therefore not just suitable for an all-round overview. It can also, for instance, combine additional sensor information from the vehicle with the camera images and analyze its own video information. Furthermore, the system is designed such that it can be individually tailored to the customer's needs. The ProViu 360 system is scheduled to begin production in 2020.
Stand C5.403