EL-A Verfahrenstechnik GmbH
EL-A Verfahrenstechnik GmbH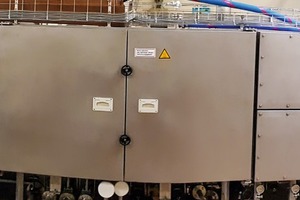 Quelle/Source: EL-A Verfahrenstechnik GmbH
1 Die EL-A Verfahrenstechnik GmbH hat einen Kontaktbandtrockner entwickelt, der über seitlich angebrachte Flügeltüren und ein großes Gehäuse verfügt • EL-A Verfahrenstechnik GmbH has developed a contact belt dryer with side-mounted double doors
and a large housing
Quelle/Source: EL-A Verfahrenstechnik GmbH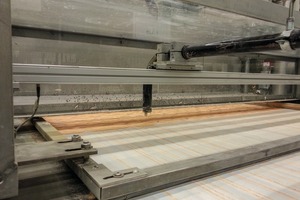 Quelle/Source: EL-A Verfahrenstechnik GmbH
2 Die Robustheit des PTFE-Transportbands erlaubt es dem Kontaktbandtrockner, zu trocknende Produkte – zähflüssig wie fest – in großen Mengen oder Stückzahlen aufzulegen • The robustness of the PTFE conveyor belt allows the contact belt dryer to transport large quantities or numbers of products to be dried – viscous or solid
Quelle/Source: EL-A Verfahrenstechnik GmbH
I‌n contrast to many other drying methods, contact belt dryers are flexible in their use and can process an enormous range of substances – from flowable suspensions and solid granulates up to powders. Due to the design, however, the systems are often difficult to access; therefore, maintenance and cleaning are often time-consuming and reduce the availability of the dryer.
EL-A Verfahrenstechnik GmbH has therefore developed a contact belt dryer with side-mounted double doors and a large housing. The interior is thus easily accessible and ensures fast and ergonomic work, which avoids unnecessarily long production stops. In addition, it is possible to install a continuous washing system following the drying process, which automatically cleans the heat-resistant and tear-resistant PTFE endless belt for the transport of the products. For this purpose, only the corresponding start command must be given via the touch panel; then two spray nozzles clean both sides of the belt with water.
Afterwards, large quantities or numbers of substances to be dried – viscous or solid – can be placed onto the cleaned robust PTFE conveyor belt again. This is due to the fact that EL-A uses either glass-fiber-reinforced or aramid-reinforced endless belts for processing that are extremely resistant and withstand temperatures of up to 250 °C.
The products pass through 2 to 8 drying chambers, which can all be heated separately, each equipped with two electric hotplates below the continuous belt. The plates are responsible for direct heat transfer to the product and – thanks to the division into three heating circuits – they allow a differentiated temperature control for an individual drying process according to customer requirements. If required, it is also possible to install additional infrared modules or a radiant heater above the product line. With this, the separately heatable chambers in combination with optional infrared modules ensure a homogeneous drying result – and thus faster process handling.
It is possible to laminate the robust belts; as a result, dirt particles cannot penetrate the material via micropores. Thus, apart from dyes and pigments also dry ceramic materials, abrasive metal pastes or waste sludge can be dried.