New products for processing materials
Exhibitors showcase their latest technology at RecyclingAKTIV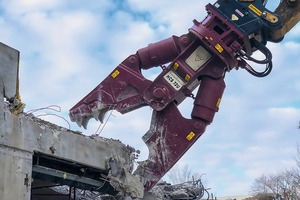 Quelle/Source: Hydraram
1 Hydraram demonstriert seine neuen Abbruchwerkzeuge live und praxisnah in Aktion auf der RecyclingAKTIV, u.a. die HCS-72U Abbruchschere für Beton und Stahl • Hydraram will be giving a live, up-close demonstration of its new demolition tools at RecyclingAKTIV, including the HCS-72U demolition shears for concrete and steel
Quelle/Source: Hydraram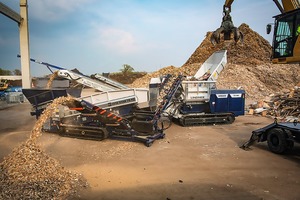 Quelle/Source: Lindner Recyclingtechnik
2 Durchsatz 25 t/h: Die Lindner-Systemlösung mit dem Zerkleinerer Urraco 75 DK und dem Sternsieb Zeta Star 75 F2 DK ist auf der Aktionsfläche Holz & Biomasse in Karlsruhe im Einsatz • Throughput 25 t/h: the Lindner system solution with the Urraco 75 DK shredder and Zeta Star 75 F2 DK screen will be demonstrated at the Wood & Biomass special theme area in Karlsruhe
Quelle/Source: Lindner Recyclingtechnik
B‌etween 5 and 7 September 2019, more than 200 exhibitors will be presenting their latest products at the RecyclingAKTIV and TiefbauLIVE trade fair pairing at Karlsruhe Trade Fair Centre. These demonstration trade fairs feature many live demonstrations of machines and equipment – either at exhibitors' own stands or on one of the two special recycling theme areas. At the Mobile Scrap & Metal Yard, live demonstrations of devices such as scrap shears, metal saws, metal balers and two mobile metal plants are given twice a day. At the Wood & Biomass special theme area, exhibitors present their crushers, granulating lines, loading/unloading and dust binding equipment in action three times a day.
Demolition with added bite
In Karlsruhe, add-on equipment producer Hydraram will be presenting its completely reworked line of demolition technology, including demolition shears, concrete pulverisers and demolition and sorting grabs. Hydraram has increased the performance of its add-on parts by using hydraulic cylinders with higher working pressure levels. As well as this, cycle times are shortened by the optimised speed valves – as these are installed outside on the hydraulic cylinder, they can be accessed easily for service and maintenance.
With the HCC demolition shears, a new kind of exchangeable teeth ensures better concrete penetration, thus optimising the crushing force of the shears. Another tool is the series HFP pulveriser, which has an integrated magnet that works with the excavator's 24-volt system (batteries) and therefore does not need an additional generator. The magnet function can be switched on by the excavator operator in order to collect the reinforcing steel remaining on the construction site when the concrete is being crushed. The German subsidiary of Japanese high-technology group Furukawa Rock Drill (FRD) will also be presenting demolition tools and hydraulic hammers in Karlsruhe.
Processing waste wood
With highly productive processing technology, waste wood can be put to good use for thermal recovery. One specialist in this field is Austrian company Komptech which, as well as having its own stand at RecyclingAKTIV, will be presenting one of its single-shaft pre-shredders and a universal shredder at the Wood & Biomass special theme area.
Shredder specialist Lindner Recyclingtechnik will also be showing mobile system solutions for recycling waste wood. The newly developed and patented cutting system from the Urraco 75 and Miura series makes a mobile Lindner shredder into an integral system solution for the very first time. With the optimised geometric design of the two shafts and a special secondary crushing beam, the shredder is able to process waste wood into P100 particles with less than four percent fines in a single step. The combination of Urraco 75 or Miura 1500 with the Lindner Zeta Star 75 F2 screen allows clean P63 final grain to be produced at a throughput rate of up to 25 t/h. The ideal combination of shredder and screen guarantees ideal particles with less than five percent fines without the need to additionally sieve off a third fraction. This helps to avoid losing valuable raw materials.
Mobile solution for calling up machine data
Proemion produces connectivity solutions for machines and provides the infrastructure for networking machines with the cloud (IoT), other local machines (M2M) and with humans (HMI). At RecyclingAKTIV, the Fulda-based company will be showcasing its latest telematics unit CANlink mobile 3000, with which users can call up all CAN data for their machines. With its robust and compact IP67 plastic housing, it is especially suitable for construction machinery. The hardware configuration is very simple: plug and play. The integrated eSIM card with global roaming allows the equipment to be used almost anywhere in the world. Some product variants also provide WLAN and Bluetooth connectivity, allowing CAN data to be exchanged locally. The hardware works optimally together with the Proemion data platform.
High torque when changing tools
Schaudt Industrietechnik will be presenting a pneumatic sensor-controlled torque wrench in the hall area directly adjacent to the open-air exhibition area. High torque is required for tightening screws precisely when maintaining and changing tools at recycling facilities. With the PTS wrench by Japanese company Kuken, which is available from Schaudt, the torque is adjusted via two arrow buttons on the digital display – directly in newton metres (Nm) – rather than using thumb wheels or slide switches, as is usually the case. Maximum precision is ensured by the integrated torque sensor, which terminates the screwing process once the tightening torque has been reached. With up to 400 rpm, the work speed is far higher than in the case of comparable torque multipliers. Because it uses a planetary gear rather than a striking mechanism, it is possible to minimise both the physical and acoustic stress for users.