High performance screening media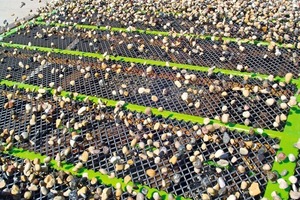 1 Bei FLEX-MAT Siebböden werden die horizontal gekröpften Kettdrähte nicht durch Querdrähte, sondern ausschließlich durch recycelbare PU-Verbindungen fixiert • In the FLEX-MAT screen media the horizontally crimped warp wires are exclusively fixed by recyclable PU connections

Self-cleaning screen media have become the ones to use especially for processing loose, bulk materials. With FLEX-MAT 3  from the partner company Major Wire Industries Ltd., Haver & Boecker offers a new screening media generation where the design significantly improves the self-cleaning effect. As opposed to the currently available products, the horizontally crimped warp wires are fixed not by weft wires in the FLEX-MAT screen media, but exclusively by recyclable PU connections (Fig. 1). In doing so, each wire can individually vibrate throughout its entire length so that caked up material and pegged particles are more effectively prevented. In addition to the high flexibility of the wire, the flat screen surface provides a considerably longer lifetime when compared to conventional screen sections.
Self-cleaning screen media up to now have been available with opening sizes of 2 mm to 28 mm and are traditionally suited only for difficult to screen decks. With FLEX-MAT, Haver & Boecker extends the spectrum of application considerably, and now offers high performance screen media for fine products with a cut size of 0.5 mm and coarse materials with cut sizes up to 100 mm. Because of their good wear properties, FLEX-MAT screening media can be operated using thinner wires than those used on conventional wire screen media. The enlargement of the open screening area often leads to capacity and productivity gains of up to 40 %.
The various FLEX-MAT series offer the right specification for almost every application. Therefore by using defined crimps, the D and T series reach the cut precision of square mesh. The D series with double wires is especially suitable for heavy bulk materials, e.g. on the feed end of side-tensioning screening machines. The S and L series on the other hand upgrade traditional harp screens, which are primarily used to effectively remove fines from the product.
FLEX-MAT screen media are available in high carbon or stainless steel design as desired, and can be used on both side and end tensioned screening machines as well as all common modular systems (Fig. 2). The polyurethane cross strips are mounted in customised production according to customer requirements, as to the position of the cross-members. Eleven production lines assure prompt delivery worldwide within three to four weeks.