HAVER & BOECKER Drahtweberei
HAVER & BOECKER Drahtweberei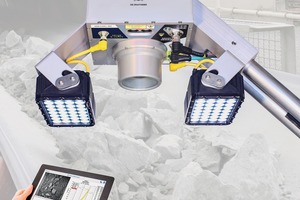 Quelle/Source: HAVER & BOECKER
1 HAVER SOLO® für die automatisierte Echtzeitanalyse von Schüttgütern auf Förderbändern • HAVER SOLO® for the automated real-time analysis of bulk materials on conveyor belts
Quelle/Source: HAVER & BOECKER
A‌t the bauma, the HAVER & BOECKER Wire Weaving Division will focus on its Canadian subsidiary MAJOR WIRE. In addition, highlights from the product ranges industrial screening and particle analysis will be presented. The HAVER SOLO®, an autonomous, mobile system for the automated real-time analysis of bulk materials on conveyor belts, will be presented for the first time.
MAJOR is a manufacturer of high performance wire screening media for the aggregate, mining and recycling industries. With more than 130 years of experience, the company has registered offices in Montreal/Canada and opaerates 13 production locations worldwide. MAJOR has been a partner of Haver & Boecker since 2012 and has been fully integrated into the Haver & Boecker Group in 2015.
Trademarks in the product range include Flex-Mat® High Vibration Wire Screen, an active screen media and OptimumWire®, a patented spring steel wire produced according to a manufacturing process developed in house. Flex-Mat's wires are bonded by high-density lime green polyurethane strips instead of being woven. This technology allows wires to vibrate independently from hook to hook under material contact. The high frequency vibration of the wires (8000-10 000 per minutes) adds-up to the vibration of the screen box (800-900 per minute) to speed up material separation and passing (best fines and near-size passing efficiency), thus significantly increasing throughput, lengthening wear life, and virtually eliminating blinding, pegging and clogging.
OptimumWire® is manufactured using an alloy with a high concentration of carbon and manganese and very high anti-wear properties compared to commonly available spring steel wires. Its high ductility, hardness and tensile strength make this wire less susceptible to breakage under high loads and when in contact with strong abrasive materials. Screen bottoms made out of OptimumWire® reduce work, maintenance and production down-time costs. One can select a smaller wire diameter which increases the open areas on the screen bottom and therefore increases the throughflow of material.
Stand B2.149