HAVER & BOECKER OHG, Die Drahtweber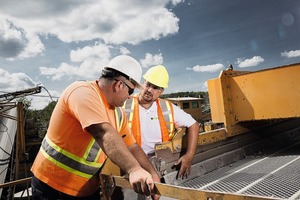 Quelle/Source: HAVER & BOECKER
Hocheffiziente Flex-Mat Siebböden erhöhen die Leistung der Siebmaschine. Das Haver & Boecker und Major Personal berät bei der Auswahl der richtigen Flex-Mat Spezifikation und ist bei der erstmaligen Montage der Siebbeläge vor Ort # Flex-Mat High Performance Screens increase the capacity of the screening machine. Haver & Boecker and Major personnel support customers with the choice of the correct Flex-Mat specification and are on-site during the first installation
Quelle/Source: HAVER & BOECKER
AT MINERAL PROCESSING:

What kind of plants or machinery does your company produce; which are the most important business segments?

HAVER & BOECKER: HAVER & BOECKER  is a family-managed, midsize company with headquarters in Oelde, Westphalia. HAVER & BOECKER OHG comprises the Wire Weaving and Machinery Divisions. Together with more than 50 subsidiaries on all five continents, HAVER & BOECKER is active worldwide with more than 3000 employees. In 2016 the company had a turnover of 460 million €.


The Wire Weaving Division manufactures woven wire cloth and processes it into engineered woven wire...