Hyundai HL770-9A wheel loader in action at a quarry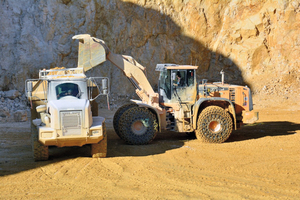 Quelle/Source: Hyundai Heavy Industries
Hyundai-Radlader HL770-9A im Kalksteinbruch der August Hutter GmbH in Neresheim. Reifenschutzketten erhöhen Traktion und minimieren den Reifenverschleiß • Hyundai HL770-9A wheel loader at the quarry operated by August Hutter GmbH in Neresheim. Tyre protection chains improve traction and minimize tyre wear
Quelle/Source: Hyundai Heavy Industries
From the limestone formations on the Eastern Alb, August Hutter GmbH has been quarrying limestone since 1956. At the quarry, a Hyundai HL770-9A from the latest 9A line has been working up to 10 hours a day for several weeks now (Fig.). The wheel loader, fitted with a reinforced 4-m3 rock shovel is used to the extract high-grade limestone directly at the quarry face. The material is loaded into 30-t articulated dump trucks.
At the limestone quarry, which covers several hectares, limestone aggregate and flour, agricultural lime, feedstuffs, ballast, chippings and high-grade crushed sand are produced. Thanks to the high quality of the material, August Hutter GmbH supplies its products to a range of applications, so that its operations are able to work at capacity throughout the entire year. Wheel loaders in the 4.2-m3 class are used for reclaiming, loading at the quarry face and large-scale construction projects. They operate mainly as key machines and have to combine extremely high availability with ergonomics, low total costs of ownership and, naturally, very high handling capacity.
With the new HL770-9A wheel loader from the current 9A line of machines, all with electronically controlled Cummins engines in compliance with Euro IIIb/Tier 4, Hyundai Heavy Industries (HHI) has come up with a high-performance machine. The 24 t wheel loader built in Korea to meet the strictest ISO guidelines worldwide has a 3090 mm dumping height (XTD-Version for 3540 mm dumping height) and is equipped with 3- to 5-m³ buckets.
Core component of the drive train is a six-cylinder QSL9 engine with 224 kW power output at 2000 min-1. With a cooled EGR system (exhaust gas recirculation), high-pressure injection (Common Rail XPI) and a diesel particulate filter (DPF), it meets the exhaust gas standard Tier 4 Interim/EU-stage IIIb. Thanks to passive and active regeneration, the particles retained in the DPF are continuously removed. Depending on the application, regeneration of the DPF can be activated manually. Another high-tech player in the drive train is the five-gear power shift transmission with lock-up-torque converter.
Load-sensing hydraulics with energy-saving variable pumps ((342 l/min), Z-kinematics, drive shafts and large volume tyres (26,5 R25) coupled with a transmission of 1:27 enable the HL770-9A to combine speed and propelling force perfectly. Colour LCD monitors display information on speed, load in the bucket and other performance data. Maintenance work, fault codes and other alerts are also displayed. With the fault code, the driver can contact the distributor's mechanic to arrange for repair. All thermally insulated panels are kept clear with a very powerful air conditioning/ventilation system so that driver can work in a comfortably heated cab with clearly arranged working environment and excellent visibility after a very short start-up time even in adverse weather conditions. Glass windows arranged low at the two doors and a 17-%-larger front windscreen with very slim bars improve visibility and facilitate the filling of feed hoppers, trucks or tricky loading work in challenging conditions.