Impressive range of products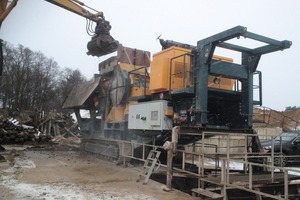 Quelle/Source: SBM
1 STE 108.75 TV mit hydraulischer Spaltverstellung • STE 108.75 TV with hydraulic gap adjustment
Quelle/Source: SBM
The company SBM Mineral Processing GmbH with the brands SBM and MFL ranks among the leading manufacturers of mineral processing and conveying plants for the raw material and recycling industries as well as concrete mixing plants to produce ready-mixed and prefab concrete, including service and support. At the steinexpo 2014 the company will present their vast range of products.
STE 108.75 TV – Track-mounted Mobile Jaw Crusher with Hydraulic Gap Adjustment
The track-mounted mobile jaw crusher with overload protection especially designed to process sleepers and demolished concrete is equipped with a newly developed hydraulic gap adjustment, which means a significant improvement in comparison to meaning conventional systems for these fields of application (Fig. 1). The centrepiece of the new plant is the jaw crusher STE 108.75 ASV with a feed opening of 1080 x 750 mm and gap widths of 50 up to 200 mm. The electric 132 kW-drive allows for an impressive production capacity of up to approximately 300 t/h when crushing concrete or up to 200 sleepers/h when crushing railway sleepers.
This new development aimed at determining the forces acting directly at the crushing jaw. If the measured crushing force exceeds the preset value the crushing gap is opened automatically. The "unbreakable" part can safely leave the crusher. Afterwards the moveable crushing jaw moves to the predefined initial position. The crushing process can be continued without any further delay. SBM´s guidelines to protect the environment were also implemented in this plant. Thus, STE 108.75 TV is a shining example with low emission values due to its diesel-electric drive and a super-soundproof power-engine. Additionally, the option to switch from generator to mains operation means low energy costs and at the same time low noise and pollution levels.
Obviously in Excellent Shape – Impact Crushers SMR 10/10/4 and SMR 10/5/4
For secondary and tertiary crushing of natural stones for the concrete or asphalt industry, this plant can successfully produce the cubic grain form required for further processing at a percentage of more than 90 % valuable material in the end product (Fig. 2). The impact crusher SMR 10/10/4 processes diabas with a feed size of 8/60 mm at a throughput capacity of 200 t/h and produces cubic high-grade chippings up to 22 mm. The material grain sizes 5/8 mm and 8/11 mm which are important for asphalt production are then screened to achieve a perfect final product with 90 % cubic grain. A frequency converter provides constant circumferential speeds of the rotor which can be re-adjusted quickly and easily. In a parallel process, the impact crusher SMR 10/5/4 is used for feed material sizes of 32/60 mm and processes 80 tons diabas per hour in 7 impact stages. Using both SBM crushers permits the production of exceptional high-grade chippings even for open-pored asphalt coverings.
The New SBM reclaimer
With the new development of a highly efficient reclaimer – a bridge bucket wheel reclaimer – SBM Mineral Processing GmbH broadens its product portfolio particularly for processed bulk materials. This SBM novelty is used where economic handling and homogenisation or temporary storage of large quantities of bulk materials are essential – an innovation especially for the raw materials industry. Features like smooth operation even under extreme conditions such as e.g. snow, ice or heat in a temperature range of -30 C° up to 40 C° and a reclaiming capacity of 1100 t/h make this reclaimer – with a total width of approximately 65 m, an especially high loading capacity and maximum availability – a convincing plant due to its basic characteristics alone.
The reclaimer has an excellent storage capacity of 84 000 m³ per stockpile and can simultaneously work on two stockpiles in a dynamic process. The first stockpile is piled up layer by layer with processed material (grain size 0-8 mm) by a reversible distributing conveyor. The second stockpile is worked on by the reclaimer with a bucket wheel with 9 m diameter which removes the raw material semi-automatically respectively fully-automatically and transfers it to the loading of wagons by conveyors.
Stand B12