Keestrack
Keestrack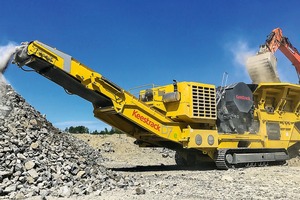 Quelle/Source: Keestrack
1 Als Neuheit präsentiert Keestrack den Backenbrecher B7e. Mit größerem Brecher (1200 x 830 mm) und höherer Maximalleistung (ca. 700 t/h) löst der Vollhybrid das Modell B6 ab • As a premiere, Keestrack presents the B7e jaw crusher. With a larger crusher unit (1200 x 830 mm) and a higher maximum capacity (700 t/h), the full hybrid plant replaces the B6 model
Quelle/Source: Keestrack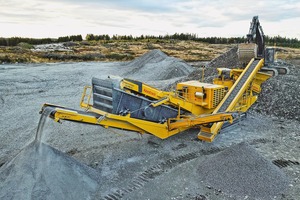 Quelle/Source: Keestrack
2 Mit seinem leistungsfähigen Dreideck-Nachsieb produziert der vollhybride Kegelbrecher Keestrack H6e hochwertige Endprodukte aus den anspruchsvollsten Ausgangsmaterialien • With its efficient three-deck post-screen module, the full hybrid cone crusher Keestrack H6e processes high-quality end products from a wide variety of materials
Quelle/Source: Keestrack
K‌eestrack will display a total of nine processing plants at Bauma 2019 and shows the entire product range of tracked technology for mineral recycling and quarrying. The leitmotif will be the cost-effective hybrid and plug-in electrification of plant drives, which the globally active supplier not only implements in new model generations and spectacular innovations, but consistently in all performance classes of its crushing, screening and handling solutions.
Complete E-portfolio in mobile crushing
Including two successful 30-ton crushers, Keestrack will present this year all flagships of its track-mounted jaw, impactor and cone crusher series as diesel-electric full hybrid plug-in systems. According to Keestrack, the new and enhanced models are not only class leaders for 60 to 70 tonnes transport weight in terms of size, output, product quality and variety, but are also setting new standards for cost-efficient operation with their sophisticated drive concepts. Without restrictions in transportability and tracked on-site mobility, Keestrack's diesel-electric heavy crusher range meets both the requirements for volume-intensive recycling jobs on construction sites as well as for flexible multi-stage production of mineral aggregates in pits and quarries. These include the following plants:
For the first time internationally on show, Keestrack presents the jaw crusher Keestrack B7e, as new 700-tph flagship, replacing the smaller B6. The plant with a total weight of just under 69 t (with options) is highly mobile: by detaching the 6 m³ feeder unit incl. pre-screening, the weight drops below 60 t.
High production capacities in secondary and tertiary crushing are guaranteed by the full hybrid cone crusher Keestrack H6e. With only 62 t total weight with all options (51.5 t without final screen) the large cone can be operated economically at various jobsites.
This versatility is also the success of the impact crusher R6e as compact and highly mobile "1300" with double pre-screening and double-deck post-screen module incl. oversize recirculation. The 62-t-plant can be flexibly dislocated with the optional dolly-system.
Particularly sensitive are transport weights for compact all-rounders of the 250 to 300 t/h class. Here, Keestrack will display its fully hybrid impact crusher R3e with single-deck post-screen and oversize recirculation (total 32 t) and the proven jaw crusher B3e with new independent pre-screening.
Save by combining
Compared to conventional diesel-hydraulic units, diesel-electric driven plants directly save up to 40 % of fuel. While working in production trains, the attributable fuel consumption may even decrease by 70 % when the hybrid screeners are powered directly via the plug-out supply of an upstream or downstream diesel-electric crusher. To fully exploit this potential, Keestrack offers today six models of his double-deck scalpers (250 – 1000 t/ph) optionally as full hybrid plug-in versions.
New to the "e"-programme is the scalper Keestrack K6e: With 8 m³ standard feeder, 4500 x 1800 mm double-deck screen box (2 x 8.1 m²) the nearly 30-tonne plant produces three fractions with 600 t/h and can be adapted to a wide range of materials and applications with a variety of screen media and additional equipment. A full hybrid screen solution with high potential for economical semi-stationary operation from mains is the Keestrack K5e Flip Flow (approx. 29.5 t). The specially adapted BIVITEC technology in the large double-deck screen box provides a wide range of applications in the economic recycling of residual materials (glass, wood, slag, etc.) or the processing of difficult materials with high basic moisture. The flexible screening equipment also allows the efficient and economical production of minimum grain sizes of < 2 mm, handling hot materials (eg slag) or generally the production of large quantities of mineral standard products (up to 450 t/h).
Ideas on stock
Almost positioned close to possible power sources, stackers with their rather low power requirement are particularly suitable for economic alternative drives. Brand new emission-free models in stockpile handling will be presented in Munich. The semi-mobile electric Feeder/Stacker S1e, is installed on a height-adjustable pedestal with lifting and 180 ° swivel hydraulics. The light 10.20 m belt feeder (5.45 t) conveys up to 280 t/h of sand or gravel (max. size: 200 mm ) and creates kidney-shaped piles of max. 2900 t.
Futuristic will be the world premiere of the tracked stacker Keestrack S5e "Solar", probably world's first directly solar-driven processing plant. Photovoltaic modules mounted above the 23 m long conveyor feed a 23-kWh battery installed in the chassis. The battery powers all electric driving, lifting and conveying functions. In case of bad weather or intensive continuous operation, the system can be powered or recharged via available external sources, such as upstream diesel-electric crushers and screens, or via mains plug-in.
Stand FN.1017/1