MBA Instruments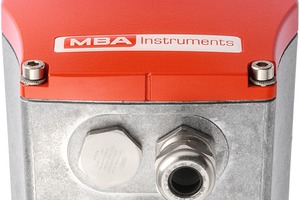 © MBA Instruments
1 Digitaler Drehflügel MBA800 mit Atex-Zertifizierung • Digital rotating paddle MBA800 with ATEX certification
© MBA Instruments
A‌t the SOLIDS trade fair in Dortmund, the specialists from MBA Instruments will give detailed insights into their product variety for level measurement and will focus on the innovative rotating paddle series MBA800: The device series combines the conventional measuring method of the rotating paddle with the modern drive technology of a stepper motor. For users, this measuring method offers numerous advantages – such as the possibility of use in different types of bulk solids. The MBA800 series is also ATEX-certified.
With systems that are both robust and flexible, MBA Instruments sets the course for faster and improved production processes. More sophisticated measuring methods not only increase precision, but also create a wider range of applications. With the MBA800 series of instruments, the Quickborn company meets this demand: Due to a change in technology within the measuring method, which has proven itself for decades, today only one single system is needed for goods where different measuring methods and instrument variants were previously used as compromises.
The rotating paddle type series of the MBA800 stands out from conventional models mainly by the use of a patented stepper motor drive with integrated magnetic slip clutch. The pole reversal of the electromagnets in the motor drives the shaft step by step. Unlike synchronous motors with mechanically moving parts, stepper motors offer the advantage that their functions are not affected by vibrations. The entire series is insensitive to vibrations, as confirmed by a vibration and shock test at 29 G – opening up new areas of application that would have been unthinkable with the previous rotating paddle detectors.
Measurement even in explosive environments
During the development of the MBA800 series the use in explosive atmospheres was also taken into account. The completed type examination according to ATEX officially confirms the possibility of using the rotary blades in dust Ex areas. They meet the directive 94/9/EC as well as the basic safety and health requirements of EN 60 079-0:2012 + A11:2013 and EN 60 079-31:2014.