Metal ore beneficiation in Kazakhstan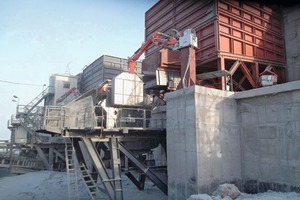 2 Konstruktive Lösung in Kasachstan: Die Sandvik Brechstufe mit dem Backenbrecher CJ615 wird durch die Integration des Auslegersystems Rammer C450 mit Hydraulikhammer Rammer 2063 komplettiert • Engineered solution in Kazakhstan: the Sandvik crushing stage featuring CJ615 jaw crusher with the integration of the Rammer C450 boom system equipped with Rammer 2063 hydraulic hammer
A part of the global gold reserves is securely vaulted. Gold
   is also currently extracted and processed – with the help of Engineering Dobersek and Sandvik – close to the "Little Switzerland" region of Kazakhstan (Fig. 1). Sandvik was awarded the contract for installation of the third crushing stage and screening equipment. With the mid-term goal of increasing the annual volume from 8 million t to 10 million t gold ore, planning and realization of this project were completed quickly and smoothly.
In a two-shift operation, 1200 t gold ore are extracted daily. An interim shift takes care of any inspections and maintenance work. Following full commissioning of the third crushing stage, the number of crusher tools is to be reduced from 12 to 10. Thanks to an interchangeable rectifier plate at the fixed crusher jaw to reduce the nominal gap width, this plan can also be realized. In addition, this will enable a reduction in energy consumption. The Sandvik crushing stage includes a CJ615 jaw crusher with integrated Rammer C450 boom system equipped with Rammer 2063 hydraulic hammer (Fig. 2). With this system, steady supply of the feed material is ensured. Material blockages and bridges are quickly eliminated.
Key feature of the Sandvik CJ615 jaw crusher is a deep crusher mouth with good feed acceptance angle, with different crusher jaw forms being available for various applications. The crusher impresses with its considerable capacity thanks to high eccentricity and is equipped with infinite hydraulic gap adjustment. The stationary Rammer boom systems enable optimum positioning of the hammer at the crusher to quickly and efficiently eliminate material blockages and bridging. Rammer supplies a wide range of booms. They are available as integrated systems optimally tailored to the specific application with hydraulic power unit, operating controls and ideal hammer. The systems available range from flexible, lightweight slewable booms to heavy-duty boom systems with a big reach.