Mining and processing of minerals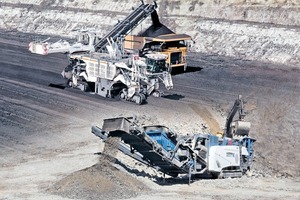 Mit den Wirtgen Surface Minern und den Kleemann Brech- und Siebanlagen bietet die Wirtgen Group Maschinen für die Gewinnung von Nutzmineralien sowie deren Aufbereitung • The Wirtgen Group offers machines for the mining and processing of minerals – Wirtgen surface miners and Kleemann crushers and screens
With the Wirtgen surface miners and Kleemann crushers and screens, the Wirtgen Group's Mineral Technologies division offers a well-matched product range for mining and processing minerals. Extracting minerals from open-cast deposits and processing mineral raw materials impose high demands on man and machine. Durable, high-performance equipment is essential here. The experiences gained in practical applications are continually channelled into further technological advancements and it is this which now permits the Wirtgen Group to offer its customers technically perfected, practical products which are designed to withstand the most extreme operating conditions. From material extraction to material processing, these robust machines stand for reliability and economic efficiency.
Wirtgen surface miners
The well-established mechanical mining procedure requires no drilling, blasting and pre-crushing. Instead, the rock is first cut and crushed in the surface miner by a special cutting drum before being transferred into dumpers via sturdy conveyor systems – all in a single pass. Alternatively, the rock can be placed alongside the machine or laid in windrows between the tracks. Only Wirtgen can offer both of these options. As a result, surface miners are very flexible to use. They have cutting widths of 2.20 to 4.20 m and cut down to depths of 20 to 83 cm – at a uniaxial compressive strength of up to 120 MPa. Special machines for rock construction can even cut hard granite up to 260 MPa. Wirtgen is the only manufacturer which can offer a performance range of 100 to 3000 t/h.
Wirtgen offers three time-proven performance classes which can be configured variably to meet the needs of each project: the 2200 SM, the 2500 SM and the 4200 SM. Over two dozen cutting drum designs are available as standard and further designs can be developed and built for specific applications. Used in open-cast mining, road routing work, railway lines and tunnels, over 420 Wirtgen surface miners are currently in operation around the world. The machines can selectively extract valuable minerals, coal, limestone, gypsum, bauxite, phosphate or iron ore with a high degree of purity. Thanks to the continual expansion of the machines' range of applications, they can also be used for special applications in salt, granite, kimberlite or oil shale mining.
Kleemann crushers and screens
The Wirtgen Group offers a wide range of jaw, impact and cone crushers as well as screens for processing mineral raw materials and recycling construction materials. Kleemann has been in the business of processing natural rock and recycling materials for over 150 years. Recycling materials and the chunks of rock obtained from drilling and blasting work in quarries are processed into defined grain sizes. These classified final granulations are used in road and building construction, being standard additives for concrete as well as for asphalt base, binder and surface courses. In addition, Kleemann products are designed to tackle hard minerals and materials in the mining sector. Kleemann provides application consulting for its customers to help them select the right machine for their requirements. This ensures that products can be mined as economically as possible at the specified daily rate.
Jaw crushers in the MOBICAT line are the classic primary crushers for natural rock. The performance range of these mobile machines extends from 100 to 1500 t/h. Extremely robust, high-performance machines with feed capacities of 450 to 1000 t/h are used for traditional quarry applications. Secondary crushers such as track-mounted impact crushers in the MOBIREX line and cone crushers in the MOBICONE line are electrically connected to work in tandem with primary crushers and screens. The screen area of the chain-mounted screening plants ranges from 7 to 18.4 m2. Their performance extends up to 1000 t/h, making them ideal for heavy duty operation and material which is difficult to screen. Stationary plants with capacities of 100 to 1000 t/h perform all the other individual tasks required apart from crushing and screening – i.e. washing, sand processing, mixing, dust collection etc., rounding off the product range.
Two brands – One solution
The Wirtgen Group offers extremely robust, state-of-the-art special machines in the field of mineral technologies: namely Wirtgen surface miners and Kleemann crushers and screens. With a wide range of products and decades of practical experience in applications technology, the Wirtgen Group offers its customers one-stop tailored solutions, worldwide. Committed to advancing its machines in collaboration with its customers and to providing an optimum after-sales service – extending from advice and financing support to an on-site machine service – the Wirtgen Group is the ideal partner in the field of mineral technologies.