Mobile Kleemann equipment combination used in Australia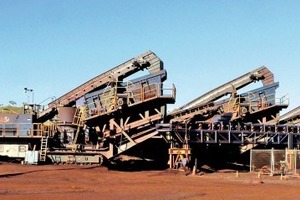 1 Kombination von mobilen Backenbrecher MC 125 Z mit drei mobilen Kegelbrechern mit Dreidecker-Siebeinheit vom Typ MCO 13 S im australischen Outback • A combination of mobile MC 125 Z jaw crushers with mobile cone crushers and the triple-decker MCO 13 S screen unit in the Australian Outback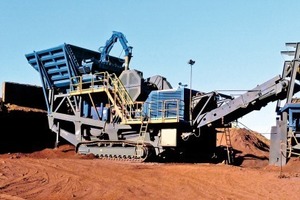 2 Die MC 125 Z sorgt in der ersten Brechstufe mit über 600 t/h Leistung für genügend Material für die drei nachfolgenden MOBICONE-Anlagen • The MC 125 Z, with an output of more than 600 t/h, provides enough material for the three MOBICONE units downstream

The Kimberley Metals Group (KMG) launched the "Ridges Iron Ore Project," a new mine in the ­Kimberley region of Western Australia, in 2011. Here the iron ore is extracted from a mountain ridge, taken by dump truck to a central location and processed. The processing itself is handled by SJ Crushing as a subcontractor of KMG. "The major challenge for us was going very quickly from submitting our bid to a stable production of 500 t/h," says Neil Fitzpatrick, Project Manager at SJ Crushing, describing the project requirements.
The company found its solution with Kleemann. The ­mobile solution, consisting of a MOBICAT MC 125 Z mobile jaw crusher and three MOBICONE MCO 13 S secondary crushers was developed in close cooperation with the Kleemann experts from Germany (Fig. 1). Because the initially anticipated project duration was very short, just four years, it quickly became clear that the solution would have to be a mobile one. The equipment in the mine is also quickly movable in case of changing conditions or requirements.
The cut or blasted material is transferred to the MOBICAT MC 125 Z by wheel loader (Fig. 2). The size of the material recovered by the surface miners ranges from 0-200 mm, while the blasted material can have edges up to 1000 mm long. In addition, the compressive strength of the material can be far above 300 MPa. The mobile cone crushers break the material down to a final grain size of 0-10 mm, each of the three units generating the end product. The material from the bottom and to some extent the middle deck of the triple-decker screen units is passed on to the next machine in order to ensure the high hourly output rate of more than 600 t/h (Fig. 3). The machines run in two shifts around the clock, seven days a week, so excellent after-sales service is extremely important, and the Australian Wirtgen Group subsidiary is optimally positioned to meet this requirement.