Neukloster Gravel Works presented with Mecklenburg-Vorpommern ­Recultivation Award 2016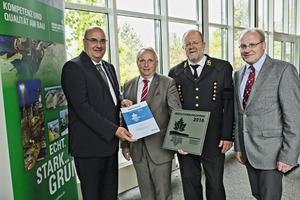 Quelle/Source: Andreas Friese/Heidelberger Sand und Kies
1 Presentation of the Mecklenburg-Vorpommern Recultivation Award (left to right): Heidelberger Sand und Kies Managing Director Thomas Wittmann, Environment Minister Dr Till Backhaus, head of the Mining Office Thomas Triller and the Secretary of the UVMB Bert Vulpius
Quelle/Source: Andreas Friese/Heidelberger Sand und Kies
For its exemplary work in restoring areas in the north west of the Perniak open sand and gravel pit, the Neukloster Gravel Works owned by Heidelberger Sand und Kies GmbH has been presented with the "Recultivation Award 2016". On 15 June 2016, Dr Till Backhaus, Minister of Agriculture, Environment and Consumer Protection in the German state of Mecklenburg-Vorpommern presented the certificate to Thomas Wittmann, Managing Director of Heidelberger Sand und Kies GmbH (Fig. 1), at special ceremony.
For over 22 years, at the Perniak Gravel Sand Pit of the Neukloster Gravel Works, in addition to extraction, areas have been recultivated and restored. The areas for which the Recultivation Award was presented lie in the north-western part of the 106-hectare pit site and comprise around 40 hectares. The recultivation concept included loose bank planting with willow and alder bushes, the creation of succession areas for dry and wet biotopes as well as an island with shallow water areas, with large-area virgin soil as the goal. Moreover, hedges were planted in the fringe areas and boundary slopes along the country road and forest biotopes connected with each other with hedges and dense planting.
Managing Director Thomas Wittmann is delighted about the award: "With the intensively used cultivated landscapes, our quarries and gravel pits often offer the last refuge for rare species of animals and plants. With selective recultivation measures, we make sure that numerous birds, amphibians and reptiles as well as protected plants can settle here again undisturbed." After the award presentation ceremony, Minister of the Environment Dr Till Backhaus and Managing Director Thomas Wittmann were able to experience first-hand that the recultivation has been worth the effort: with the active support of the head of the Stralsund Mining Office and the Secretary of the Trade ­Association for Mineral Resources, they ringed two young eagle owls (Fig. 2). Bubo bubo, as the eagle owl is called in Latin, is the largest owl in the owl family. In Germany it has been forced to retreat to the low mountain regions and the Alps, but now, after some time, it is now settling again in the lowlands. In Mecklenburg-Vorpommern, experts estimate the current population at 5 to 10 breeding pairs – one of which has its home at the gravel plant site in Neukloster.