In action on steep terrain
New Komatsu dump truck from Kuhn joins the fleet at SWM Schotterwerk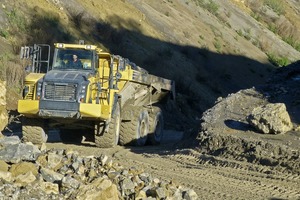 © Kuhn Baumaschinen Deutschland GmbH
1 Slopes with an up to 18 % gradient at the Markgröningen quarry pose no problem for the Komatsu HM400-5 dump truck
© Kuhn Baumaschinen Deutschland GmbH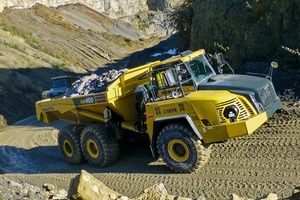 © Kuhn Baumaschinen Deutschland GmbH
2 The built-in Komatsu Traction Control System (KTCS) automatically ensures optimum traction even on slippery terrain
© Kuhn Baumaschinen Deutschland GmbH
I‌n road construction and civil engineering especially, it is essential that a steady material supply is ensured to quickly complete work at construction sites. SWM, a quarrying firm based near Ludwigsburg, ensures that road construction and civil engineers have sufficient material to work without any hitch. At its Markgröningen quarry, shell limestone is extracted, which is used as a base material or as aggregate in asphalt and concrete plants. Here, a new Komatsu HM400-5 articulated dump truck from Kuhn Baumaschinen has recently been acquired to strengthen the existing fleet – it is the second in this line of machines to take up duty at the quarry.
At the Markgröningen quarry, SWM Schotterwerke Markgröningen GmbH & Co. KG, employs 13 people. Here, the Komatsu dump truck now supports the fleet of two other articulated dumpers, 20- and 50-tonne excavators, three wheel loaders and a bulldozer. Material has been quarried in Markgröningen since 1980. For this work, especially rugged and powerful machines with all-wheel drive are in operation, as on account of the topography at the quarry they must manoeuvre very difficult terrain with up to 18-% gradients. The firm attaches great value to its machinery and equipment being environmentally friendly. Fleet and machines are state of the art, and for this reason the company has invested amongst other things in the new Komatsu dump truck. With the crushers, too, SWM aims to minimize prescreenings, that is unusable material. SWM uses a built-in finger roller screen supplied by August Müller, to reduce "waste". An average of 20 % prescreenings are produced. With the added screen, another 30 – 40 % material can be made usable.
To ensure the smooth extraction of the shell limestone, another dump truck was needed, which is reliable and efficient. The size of the machine also had to be matched to the existing loading equipment so that their interaction during transport to the crusher runs optimally. What was most important was that the dump truck had to easily cope with the 18-% slope gradients. Managing Director Joachim Burckhardt knew that the Komatsu HM400-5 would be a perfect fit. Since 2017, one Komatsu dump truck in this series has already been working in Markgröningen and meets all those criteria important to SWM. Since its acquisition, It has completed 5000 operating hours without any problems.
With the integrated Komatsu Traction Control System (KTCS), it can easily manage the gradients on route, while optimum traction is ensured even on slippery terrain. In future, for 1500 operating hours per year, the dump truck will transport the freshly blasted rock from the quarry floor to the crusher or take the overburden to the landfill. The Komatsu HM 400-5 with its 353 kW power, a payload of 40 t and travel speed up to 56 km/h offers maximum efficiency, first-class driver comfort, and easy maintenance, and is also environmentally friendly thanks to its stage V engine. With the integrated payload meter, the excavator driver can see from a traffic light system when the dump truck has been optimally filled. This gives SWM an additional comparison to its crusher weigher.
Not only the quality and productivity of the HM400-5 convinced Joachim Burckhardt. The flexibility in cooperation with Kuhn Baumaschinen influenced SWM's decision to buy the dump truck, as the experience with the Komatsu teams in sales and customer service was always very positive.