OEM-independent fleet management system
Komatsu introduces "Smart Quarry Site"
Komatsu Europe presented the new overall fleet management solution "Smart Quarry Site" at steinexpo 2023 – a tool that can further increase the productivity and fuel efficiency of your mining and heavy-duty machines. In addition, Smart Quarry Site can monitor and increase workplace safety in real time while reducing overall site emissions.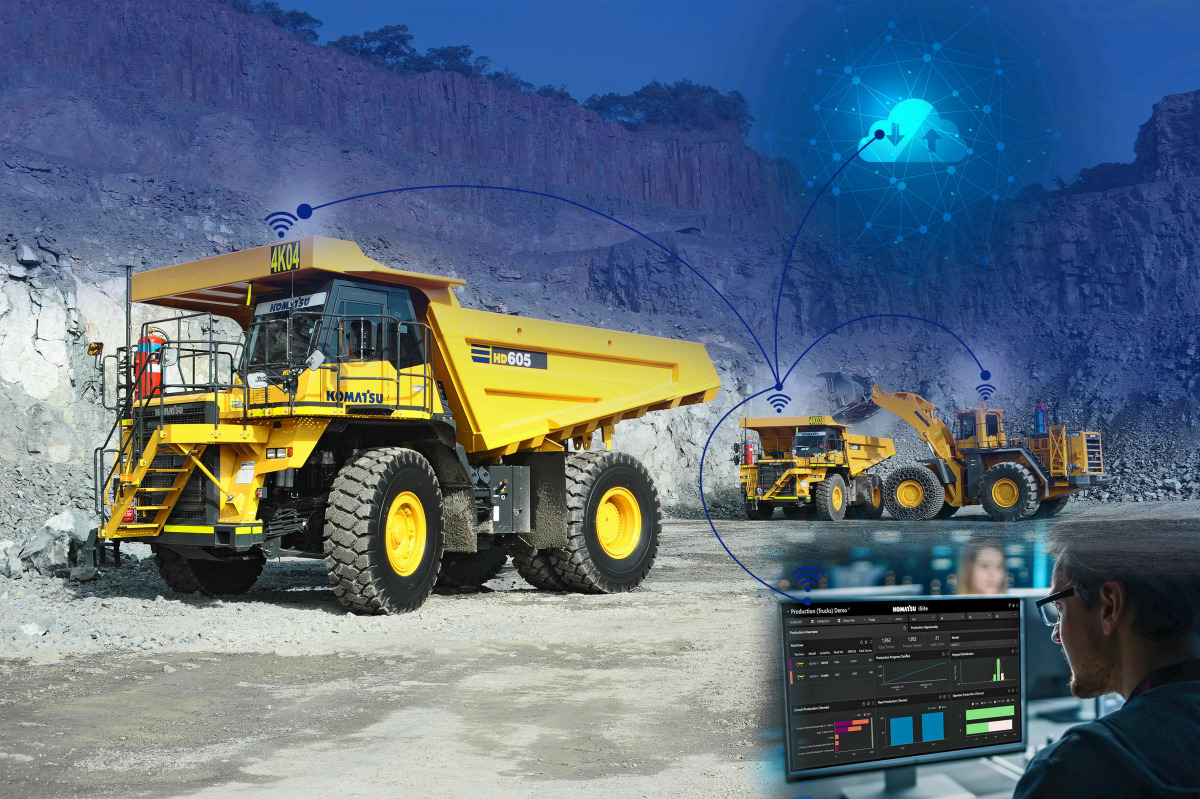 Machine connectivity
© Komatsu
Machine connectivity
© Komatsu
Smart Quarry Site is expected to be launched by the end of 2023, having already been introduced at bauma 2022. This brand-independent solution focuses on six key areas: safety, site management, production, machine condition, maintenance, fuel consumption and CO2 emissions for mining and large civil engineering projects. Among other things, Smart Quarry Site provides real-time payload data and production rates from all machines in a fleet. The system identifies potential improvements and bottlenecks, enabling users to increase safety and production and reduce operating costs. This makes it possible to make decisions quickly and increase the efficiency of a fleet.
"Smart Quarry Site provides our quarry and large construction site customers with a real-time overview of the movements and condition of all machines at all times, enabling them to identify opportunities and achieve goals," explains Daniel Heussen, General Manager Business Transformation at Komatsu Europe. He adds: "Key KPIs – operational parameters – for the entire fleet, such as payload, fuel consumption and machine working time, are reported so that site managers can make informed decisions without having to spend hours analysing raw data."
Each driver can log into the system with his own ID and has immediate access to the desired information. The screen in the cab provides real-time information about the current payload, the type of material and the destination. Data can be exchanged between machines via a meshed network from machine to machine. If a machine is not connected to the network, the data exchanged via the network is automatically transmitted as soon as one of the connected machines is back in range. Thanks to this network, a connection is established between loading machines and trucks, allowing loading machine operators to make the most of the trucks' payload on each cycle. The user-friendly dashboards and real-time view make it easy for all office staff to quickly access fleet and production information. This gives them access to various detailed data from the job site, such as safety, production, idling, CO2 emissions, fuel consumption and machine status.
For a quick overview of topics such as pre-machine start-up checks or production, the report and schedule can be configured to own preferences so that it is sent to the appropriate email address at the desired time.
Key features
• Fleet management solution for mining and large construction sites – track the entire fleet in one system
• Cross-brand
• Recording of real-time data via the Can-Bus
• Robust tablet in each machine showing current payload, total production, type of material and safety messages
• Checks before machine starts
• Driver ID
• Real-time view of each machine movement and work status, as well as machine health
• Dashboards (utilisation / emissions and fuel / fleet focus / production / driver dashboard)
• Automated and configurable reports (for example: production, progress and fleet utilisation)
• Safety alerts
• Meshed network connecting the machines together
Advantages
• One solution for the entire fleet
• Increased productivity and fuel efficiency
• Tracking and increased site safety
• Reduce overall site emissions
• Control machine usage and reduce unnecessary idle time
• Reduced operating costs
• Track machine condition
• Save time through automated data collection and quick overview of the entire fleet