New Life Cycle Services (LCS) packages for aggregates industry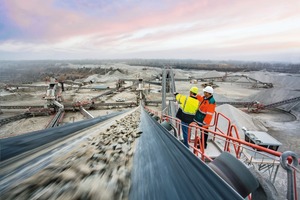 Quelle/Source: Metso
Customers choose the service content they want in Metso's new Life Cycle Services offering
Quelle/Source: Metso
With the goal of helping customers reach their lowest sustainable cost structure, Metso will introduce new Life Cycle Services packages tailored to the aggregates industry. The Life Cycle Services offering to be unveiled during the bauma construction machinery exhibition, is designed to support Metso equipment and wear and spare parts in order to ensure the most profitable operations in aggregates production.
"We have built our new Aggregates Life Cycle Services offering so that our customers can easily select the solution they need to best meet their business goals. This includes providing new ways of buying, maintaining and operating equipment", comments Giuseppe Campanelli, Vice President of Metso's Life Cycle Services business unit.
"Though we have had LCS aggregates contracts in certain regional markets, the new packages have been structured so that they are easier to understand and customize as needed, making them more accessible to the rest of our global client base. Metso successfully supports the mining sector with the LCS concept, and we believe there is a good demand for it in the aggregates customer segment as well. With this new offering, our customers are able to streamline their operations and further reduce the total cost of ownership," Giuseppe Campanelli adds.
New launches and Aggregates Academy presentations
In addition, Metso will present at the outdoor stand FN1016/3 the renewed mobile Lokotrack® LT1213S™ impactor plant, the popular Lokotrack® LT96™ jaw plant, the maintenance-friendly three-deck PREMIER ES303™ horizontal screen, new stationary plant solutions, revolutionary truck lining solutions and proven pumps.
Visitors to the exhibition are also welcomed to participate in several Aggregates Academy sessions with informative presentations.
"Bauma offers us a great possibility to present the Metso solutions that can help our customers who are currently undergoing a demanding adjustment cycle. We are well prepared to meet the current needs and to help our customers reduce operating costs and ensure efficient and profitable operations", says Joachim Höft, General Manager, Sales, Metso/Germany.
Stand: FN.418/1; FN.1016/3