New Metso MX crusher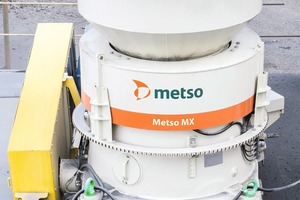 Quelle/Source: Metso
1 Metsos MX-Kegelbrecher-Neuheit kombiniert erstmals die höhenverstellbare Brecherachse und den drehbaren Oberrahmen in einem Brecher • Metso's new MX cone crusher combines for the first-time piston and rotating bowl adjusting technologies
Quelle/Source: Metso
A‌t steinexpo Metso will introduce the Metso MX cone crusher featuring multi-action crushing technology to the European market, as well as the updated Lokotrack mobile jaw plants. Since the US launch in March, over 20 MX crushers have been sold globally. "Metso's new MX cone, combining piston and rotating bowl adjusting technologies, fits well with the current needs of aggregates producers," comments Jouni Mähönen, VP for Global Sales & Product Support at Metso.
The Metso MX4 being displayed during steinexpo operates in the 315 kW power range. Benefiting from the maximum feed opening of 254 mm, the crusher can reach capacities of up to 600 metric t/h.
In addition Metso will also display two examples of its original range of Lokotrack mobile crushing plants. The Lokotrack LT120 presents a robust, 60-ton quarry range meeting all customer requirements for capacity and total efficiency in primary crushing in quarries. The large, 1200 x 870 mm jaw feed opening accepts even large feed sizes. Its sister model, the LT120E, enables economical full-electric use with an external power source.
The more compact and recently updated LT96S is a very popular model in the German market in processing recycled materials. The optional active setting control ensures continuous process, while in case of a blockage, the jaw opens to prevent damage. ASC also returns the setting automatically to the previous setting used.  "Both Lokotrack jaw plants on display are characterized through good fuel economy, latest Tier 4 Final motor technology, safe use, and easy service," says Jouni Hulttinen, product manager for Compact Lokotracks at Metso.
Metso is taking part in steinexpo together with its German distributor, Fischer Jung. During the four-day exhibition, there will be daily crushing demonstrations and the chance to meet crushing experts. Other products that will be exhibited at the Metso/Fischer Jung stand include Metso's ES303 inclined screen, VS and HR200 pumps, Trellex screening media, and a conveyor system.
Stand C23
//www.metso.com" target="_blank" >www.metso.com:www.metso.com