One of the most important national events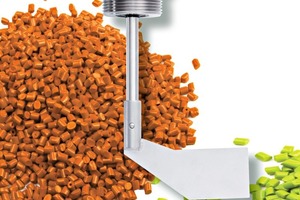 Eine der zuverlässigsten Lösungen für die Füllstandmessung in Schüttgütern: Der redesignte RN 3002. Der Drehflügelmelder der UWT-Serie Rotonivo® 3000 garantiert durch seine zertifizierte Bauweise (jetzt auch mit InMetro – Zertifikat) weltweite Anlagensicherheit und handelt neuerdings selbst Hochtemperaturen bis zu 1100°C problemlos # One of the most reliable solutions for level measuring in bulk materials: the re-designed RN 3002. With its certified structure (now also with InMetro-Certificate), the rotating paddle detector of the UWT Rotonivo® 3000 series guarantees plant reliability worldwide and of late, it handles even high temperatures of up to 1100°C without problems
AT MINERAL PROCESSING:

At which of the two trade fairs (SOLIDS Dortmund 2014 or RECYCLING-TECHNIK 2014) will you exhibit?

UWT: At this year's SOLIDS Dortmund, the UWT GmbH presents various measuring technologies for the entire variety of bulk materials.

 
AT MINERAL PROCESSING:

Why do you exhibit at the SOLIDS Dortmund 2014?

 

UWT: Since our focus is clearly on bulk material of each kind (from food and construction materials up to chemical granulates), the SOLIDS Dortmund fair is one of the most important national events for UWT.

 
AT MINERAL PROCESSING:

Which innovations will you present?

 

UWT: We will show a broad range of the UWT device portfolio: rotating paddle detector Rotonivo®, the tuning fork Vibranivo®, the capacitative level sensor Capanivo® as well as the electromagnetic level measuring system Nivobob®. Within the context of the Siemens Solution Partnerschaft, UWT presents the Siemens radar SITRANS LR560® as contactless measuring technology. Highlights are, on the one hand, the new conception of the rotating paddle detector series RN 3001/3002, which enables safe and reliable handling of high temperatures of up to 1100 °C in different applications. According to the guidelines for the StaubEx-range, the inside of the RN-device is particularly shock-resistant and designed to prevent the penetration of ignitable dust.

The Rotonivo® 3000 series has now been extended by a new international approval, the INMETRO Certification, which rules ex-protection products in Brazil. Thus rotating paddle detectors of the UWT Rotonivo® 3000 series guarantee worldwide plant reliability through certified design.

Moreover, the renewed web visualization Nivotec® provides the possibility of significantly more efficient silo management. The aim is the centralized level detection with real-time access to all filling levels in silos and intermediate containers either through the internet or through mobile data transfer. This enables permanent level control and optimized customer supply. As a result, logistical expenses are many times lower while transparency and planning security are significantly increased. In practice, an increase in efficiency of up to 20 % can be realized.

Moreover, as of this year, UWT offers RoHS-compliant level measurement technology (Restriction of the use of certain Hazardous Substances) as one of the first companies. The EC Directive 2002/95/EG (RoHS 1) on the restriction of the use of certain hazardous substances in electric and electronic devices regulates the use of hazardous substances in devices and components.

 
AT MINERAL PROCESSING:

What do you wish for the future of the fair? 

UWT: The SOLIDS Dortmund has increased considerably in recent years. Meanwhile, a lot of renowned companies of the bulk materials industry as well as a large part of the UWT customer clientele exhibit there. Thus, this trade fair provides the UWT GmbH with the ideal platform both to present their measuring technology for bulk materials in practice and to exchange ideas with other users of the industries.

 
AT MINERAL PROCESSING:

How do you evaluate the co-location of the RECYCLING-TECHNIK with the SOLIDS Dortmund?

 

UWT: Co-locating the RECYCLING-TECHNIK with the SOLIDS Dortmund has been a quite positive move. Exactly in the field of recycling, UWT has for years been successfully implementing applications, such as content measuring for foil parts in storage silos of recycling plants. "I am glad to present our product highlights in action at this year's SOLIDS Dortmund", so Thomas Schäfer, Head of Sales national.

Stand B 18