Optimized ProGrade screen range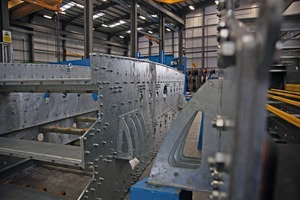 Quelle/Source: CDE Global
1 Dreideckwaschsieb ProGrade in der Produktion • ProGrade triple deck rinsing screen in the manufacturing
Quelle/Source: CDE Global
Materials washing specialists, CDE Global has announced the introduction of a number of new screens in the ProGrade range which include a new patented screen design system. According to CDE the new screen design system results in a stronger but lighter screen which requires less power. This is possible as a result of the design of the side walls on the screens. The new bolted screens also include zero welds and are galvanised as standard, all of which serves to maximise plant life, maximise plant availability and minimise time required for maintenance (Fig. 1).
An additional feature of the new ProGrade screens is the patent pending CDE U-Span cross members. The new cross member design is modular across the ProGrade range and also include zero welds. As well as offering enhanced geometric consistency the new design facilitates increased space between screen decks, allowing for quick and easy access to replace screen media (Fig. 2).
Speaking about the developments, Product Development Manager Kevin Vallelly said "The first stage of the new ProGrade product launch sees the introduction of our new patented technology on a number of screens and dewatering screens. The developments will also be incorporated on the new EvoWash 100 range of sand washing plants and across the M2500, M3500 and M4500 portable washing plants and the R2500 primary screening unit."
The new screen design system is now available on the ProGrade P2-75 (2 deck 5 m x 1.5 m screen), P3-75 (3 deck 5 m x 1.5 m screen) and P2-108 (2 deck 6 m x 1.8 m screen). Over the course of the next few months the new design will also be offered on the ProGrade P3-108 (3 deck 6 m x 1.8 m screen).