Perfect for Asphalt-Recycling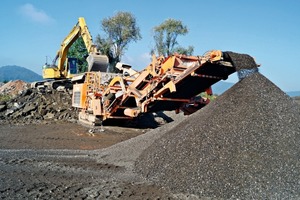 2 Trummer hat den R1100 schon über 4000 Stunden im Einsatz • Trummer has been operating already more than 4000 hours with the R1100
The recycling of broken asphalt is more profitable for the processors than calculated, and it also protects the environment. Tests of various machines carried out by different customers showed that Rockster's technology is ideally suited for recycling of old asphalt. Rockster received real value calculations of an Austrian operator of asphalt mixing plants. Even with addition of only 10 % recycled asphalt the ROI of a Rockster R900 Impact crusher with screen box RS86 and return belt RB75 would be at a little over half a year. With most mixing systems, it is possible to add up to 25 % of recycled asphalt as a cold addition, whereby the ROI would theoretically even be less than 4 months. In the same calculation, the savings for bitumen are calculated. So from this well known costly material, derived from crude oil 1200 t can be saved in the same period by using 25 % recycled asphalt – an expedient environmentally friendly side effect. But not only the final material, also accepting the delivery of broken asphalt assures these companies additional earnings and saves landfill costs.
Advantages of Rockster's technology in Asphalt-Recycling:
• Rockster's 2-swing-beam system allows to independently adjust the swing-beams
• Exact adjustment of the crushing gap to specify the final grain size and reach a simple modification of the grading curve
• The oversized rotor diameter causes an increase of the impact power and a more efficient crushing process
• The hydrostatic drive allows an infinite adjustment of the rotor speed (control of fines) and therefore an easily controlled screening curve
Another advantage of the hydrostatic drive is, that no wear costs emerge, as with clutch or clutch-similar drives, and the direction of rotation can be changed (especially important for the duplex system).
Most of these points are unique features of Rockster and ensure excellent performance with the best final grain quality. It is therefore possible to achieve any desired screening curve by simple adjustments to the crusher. This is a fact that plays a big role in the asphalt recycling industry because there are exact guidelines for the screening curve when using recycled material for the production of new asphalt. Just what in the asphalt-recycling plays a big role, as in the production of new asphalt, complying with the guidelines of the grading curve of recycled material is very important (Fig. 1).
Asphalt-Recycling in practice
Some customers of Rockster are specialized in recycling of asphalt and pull positive balances – also with regard to the service of Rockster. Asphalt-Recycling specialist Martin Trummer, CEO of Trummer Maschinenhandel & Aufbereitung GmbH in Styria, is Rockster-customer for about 6 years. He uses an impact crusher R1100 with screen box (Fig. 2) and says: "For asphalt crushed to 0-32 mm I reach a performance of almost 200 t/h with my impact crusher R1100, which is a very good value from experience with other crushers. I have been used the R1100 for 4 years now and it is still in top form." Current project is commissioned by an Austrian infrastructure company named Asfinag. They use about 15 % of recycled asphalt for a new motorway near the city of Graz.
The ARGE Recycling (formerly Naegele-construction) from Vorarlberg – Rockster-customer for about 4 years – uses a Rockster impact crusher R900 with screen box and return belt for treatment of RAP (Fig. 3). Environmental awareness and resource conservation have a great significance in the company and thus they have specialized in the recycling of asphalt and construction debris. "The first argument for purchasing a Rockster crushing plant was the outstanding performance," says operations manager Simon Nicolussi. "With the combination of screen box and return belt, we can produce high quality final grain at 0 % oversize, which can be sold very well. The compact transport measures of the R900 was another important factor, as we do not only crush at our company site, but also at our customer's places."