Powerful machines defy labor shortage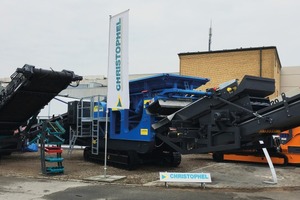 Quelle/Source: Christophel
1 Powerscreen, CityEquip, Portafill, RM und Telestack stellen mit Christophel aus • Powerscreen, CityEquip, Portafill, RM and Telestack co-exhibit with Christophel
Quelle/Source: Christophel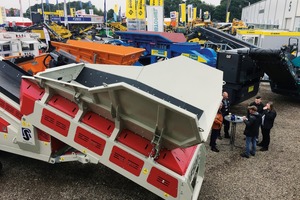 Quelle/Source: Christophel
2 806 LF 520 Flachladetrichter und weitere Ausstellungsstücke bei Christophel •806 LF 520 Flat receiving hopper and other exhibits at Christophel
Quelle/Source: Christophel
Telestack is one of the specialists for modern track-mounted stockpile conveyors. At the NordBau 2017, the new LF 520 Revolution with a flat receiving hopper that enables wheel-loader feeding was presented. Here, the bulk material passes from the belt feeder with a width of 1200 mm to the stockpile conveyor with a length of 20 m. In this way, up to 500 t/h are stockpiled to a height of 9.5 m within minutes, thus leading to a reduction of wheel loader times and staff working hours. In the time gained, the personnel can be deployed elsewhere. The new feature of the LF 520 Revolution is the upper carriage positioned on the ring mount to form kidney-shaped stockpiles, which can be discarded into boxes or loaded and unloaded parallel to the dock or railway line.
How quickly work can be done was demonstrated by the exhibited Warrior 2100 with a marketable screen size of 1.5 x 5.0 m. The feature that sets the Warrior 2100 apart from the known models is its drive. Moreover, the machine is equipped with a screening tray driven by three drive shafts with the first shaft producing a circular motion and the second complementing this motion by a linear vibration. The third shaft connects the two shafts which results in an elliptical amplitude. This amplitude is adjustable in both stroke and slope allowing the unique adjustment to the respective screening material. Finer separating cuts and higher outputs win users over.
3 in 1 is the motto of the exhibited RM 120. The flagship from RM, with its basic version weighing 35.5 t, was first exhibited in Neumünster. Drive power of 286 kW accelerates the rotor with a diameter of 1100 mm and provides the basis for highest performance. The connected screen separates the desired grain size and directs the oversized grain either into the feeding hopper or back to the stockpile. At the oversize grain return, the integrated wind sifter continuously separates the light particles. 3:1 means crushing, screening and sifting in one operating cycle. This reduces both transport costs and the effort for the monitoring of the assembly to a minimum.
The exhibited ­CityTrak 9TX with an attached screen and the Portafill 5000 CT rounded out the successful fair presentation.