Line coupling for optimal performance
Processing of basalt for the expansion of Vietnam's infrastructure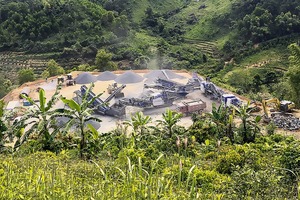 © Kleemann
1 Processing of basalt for the expansion of Vietnam's infrastructure with a KLEEMANN plant train
© Kleemann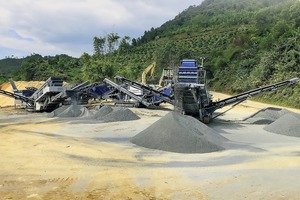 © Kleemann
2 Thanks to line coupling, KLEEMANN crushing and screening plants automatically control their optimum performance
© Kleemann
T‌he up-and-coming metropolis of Lang Son on the border with China and a congested highway – the National Route 1A – to the capital Hanoi: A KLEEMANN plant train arrived in the north of Vietnam to eliminate this bottleneck. In interlinked operation, 3 crushing and 2 screening plants processed the particularly hard rock basalt for the surface course – and met high quality requirements
On the total length of 2236 km of the National Route 1A, the section between kilometer 16 (Lang Son) and kilometer 170 (Hanoi) is particularly busy. The sometimes narrow, steep and winding route is shared by trucks, cars, countless scooters and even pedestrians. So it is high time to make National Route 1A more efficient and safer in this area. Licogi 16 JSC, one of Vietnam's largest construction companies with 20 000 employees and deep roots in almost all areas of the construction industry, was awarded the contract for around 100 km of the 154 km long construction project.
Licogi 16 maintains a close business relationship with the Vietnamese WIRTGEN GROUP dealer Vitrac. Due to the good experience with technologies of other product brands, the company decided to use a tracked mobile plant train from KLEEMANN. In this formation, the blue crushing and screening plants will make their Vietnam premiere. The train consists of 5 units. In the order of their linkage, these are a jaw crusher MC 110 Z EVO, a cone crusher MCO 9 EVO, a screening plant MS 703 EVO, a cone crusher MCO 9 S EVO and a screening plant MS 19 D.
In the quarry, 40 km south of Lang Son, the Licogi 16 team faced two challenges: Firstly, the hard and abrasive rock basalt had to be crushed and classified into clean rock fractions. And secondly, high quality requirements had to be met. With the new KLEEMANN plant train, the Licogi 16 team was able to meet the required criteria with surprising ease. After all, the crushing and screening plants do almost everything by themselves, once you know how to coordinate them. The automatic feed control system Continuous Feed System (CFS) made the work much easier. Here, the crushing plant of the first crushing stage – a KLEEMANN MC 110 Z EVO jaw crusher – only ever draws as much of the feed material into its crushing chamber as the entire coupled plant train can process. This prevents overloading and, as far as possible, material blockages.
Basalt is a vulcanite – a resistant hard rock of volcanic origin. The density of the hard rock is approx. 3 t/m³ and is therefore higher than that of granite – ideal for road construction. If the seabed is also included, it is the most common rock on earth. The mobile jaw crushers of the MOBICAT series are particularly suitable for processing hard rock such as basalt in the first crushing stage, and those of the MOBICONE series in the second crushing stage.