Excellent material flow
Rockster R800 crushes 280 000 m³ highly reinforced concrete in Russia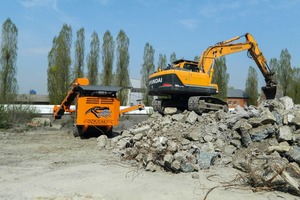 © Rockster Austria International GmbH
1 Recycling of reinforced concrete with the Rockster R800 to a size of 0-40 mm
© Rockster Austria International GmbH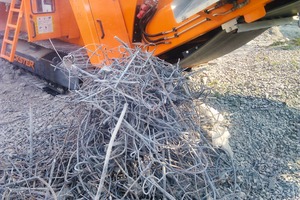 © Rockster Austria International GmbH
2 Selling the reinforcement as scrap metal is a profitable business
© Rockster Austria International GmbH
O‌n an area of 23 000 m², a Rockster R800 jaw crusher is being used to level the former factory building of the "KOMBINAT" company in Voronezh, southern central Russia. "KOMBINAT" was the largest supplier of reinforced concrete products in the Central Chernozem region of Russia and mostly engaged in the manufacture of the railway tracks and track crossing for the railway infrastructure. Because of bankruptcy, the whole area is sold, and the old buildings and infrastructure needs to be demolished.
The company had the choice either to hand over construction waste for disposal by paying of 150 RUB/m³ and additionally to pay for delivery to the landfill, or to produce rubble, which can be sold at an average price of 450 RUB/t (about 6,2 €/t), and to hand over the reinforcement as a scrap metal. That is, either to lose at least 28 million RUB, or earn 126 million RUB.
The Russian demolition company chose the Rockster R800 jaw crusher including screening system because it allows them to define the final fraction 100 % and does not produce oversize particles. A cubic grain size, as produced by an impact crusher, was not essential for the customer, as the final grain is largely reused as subgrade. Rather, the focus was on low wear and compact transport dimensions. The magnetic separator also performs very valuable services here, as the concrete is highly reinforced. "After crushing the material comes out already in the requested fraction size and ready for sale. The advantages of this crusher are compact transport dimensions and low weight of 29 t, which means that there are no special restrictions for transportation. An increased maintenance interval to 1000 hours, low service and operating costs due to reduced wear are further important benefits," says Rockster Russia technical representative Maksim Perminov.
The robust design of the machine is suitable for work on this highly reinforced concrete. Thanks to the 1.2 m long pre-screening, the fine, mostly earthy material is removed via the side discharge belt – placed in front of the crushing chamber – before the crushing process. The crushing chamber easily copes with the large amount of reinforcement. The magnetic separator separates the metal from the crushed material and withdraws it to the side. The side discharge conveyor placed before the crushing chamber removes very fine and mostly earthy material separated by the 1.2 m long pre-screening, so the flow of material and final grain quality are improved.