ROCKSTER
Rockster's Duplex – Impact crusher and jaw crusher in one machine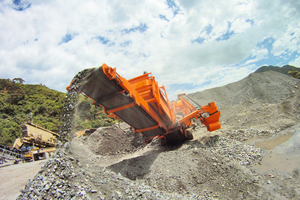 1 Als Backenbrecher R800 erzeugte die Maschine rund 300 t vorgebrochenes Material (0-250 mm) • As the R800 jaw crusher, the machine produced around 300 t precrushed material (0–250 mm)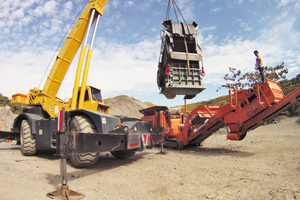 2 Anschließend erfolgte der Umbau der Anlage auf die Prallmühle R900 • Then the machine was converted to the R900 impact mill
Like a Rockster client from Colombia, many construction and preparation companies are facing the challenge of finding the optimal crushing technique for every particular application. The acquisition of different types of machines in order to adapt to different applications rapidly, can be very time consuming and costly.
To solve this problem, Rockster has developed the duplex system which has been patented for already seven years now. It enables the exchange of impact crusher and jaw crusher and vice versa on one basic chassis within a few hours. This technology allows flexible recycling, operating with hard stone, asphalt, concrete or any other C&D. The hydrostatic drive system provides the technical base for this highly sophisticated system: It allows a continuous variation of the crusher speed as well as a clockwise or anti-clockwise operation of the crusher (or vice versa). Through this drive system Rockster's customers have the advantages of a great operation convenience, and due to the absence of a conventional clutch it is free of wear. Moreover the maintenance is simple and high performance across all applications due to an optimal adaptation to the various requirements is guaranteed.
The R800-R900 duplex system in the Colombian jungle
Alfredo Contecha, CEO of the Colombian road construction company "Ingeneria de Vias" and his team had a hard job to do: In the middle of the Colombian jungle, they should turn very hard and polluted river gravel (0-500 mm) into high quality, cubic final material. To prove the promised flexibility and ease of handling, the duplex system was subject to a hard practical test by Contecha and his team. After starting the job at 7:00 a.m. the machine ran for two hours as the jaw crusher R800 (Fig. 1) produced about 300 tons of pre-crushed material (0-250 mm). The subsequent conversion to the impact crusher R900 was finished at 12:30 p.m. (Fig. 2). At 2:00 p.m. the impact crusher had finished crushing and produced final grain of 0-25 mm. Hence, it was changed back to jaw crusher and at about 6 p.m. they could start again with primary crushing (Fig. 3). Both changes during one day ran smoothly, although the high humidity, time pressure and a high altitude of the location didn't offer very favorable conditions.
Contecha was impressed: "We needed a mobile machine with high capacity and a wide range of application possibilities and tested the R800-R900 duplex solution. We took advantage of the jaw crusher for the coarse material and then the impact crusher with screenbox and return belt for secondary crushing. The rapid change of jaw to impact crusher was amazing, and above all the results after crushing with the R900 impactor were convincing: Cubic, clean and classified grain in one operation. With these excellent results I can save a lot of money because the higher the cubic material percentage is, the less need of expensive cement I have." Rockster's R800-R900 duplex is currently working 2 shifts in the Colombian jungles as it has taken over the work of two other machines with high wear costs. So, the performance and flexibility can be significantly improved by duplex and high rental and operating costs for a second machine can be saved.