Rockster's DUPLEX System for processing lead ore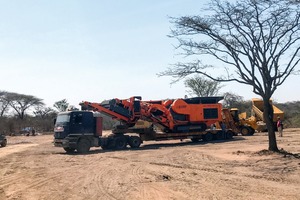 Quelle/Source: Kormann Rockster Recycler GmbH
1 Anlieferung der Rockster Brechanlage in Chunya • Delivery of the Rockster crushing plant in Chunya
Quelle/Source: Kormann Rockster Recycler GmbH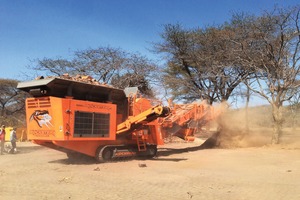 Quelle/Source: Kormann Rockster Recycler GmbH
2 Der Rockster Backenbrecher R800 bricht Galenit auf eine Größe von 0 – 40 mm und setzt dafür das Siebsystem für einen geschlossenen Kreislauf ein • The Rockster Jaw Crusher R800 crushes lead ore to a size of 0 – 40 mm using screenbox and return belt
Quelle/Source: Kormann Rockster Recycler GmbH
The P.B. Mining Company Ltd. was formed in 2014 and is specialized in the exploration of lead glance also named galena. Galena is the natural mineral form of lead sulfide. It is the most important ore of lead and usually contains about 1 – 2 % silver, a byproduct that far outweighs the main lead ore in revenue. Because of its low melting point, it is easy to liberate by smelting. The mining company has many different sites in the Mbeya Region in the United Republic of Tanzania, working in a territory of about 80 km². Exploration works are carried out by excavation as well as using vertical and inclined prospecting drilling, a driving of trenches, vertical and inclined holes.
One of their sites is placed near Chunya (Mbeya Region in Tanzania), they started to work on this place in May, 2017 with excavating the upper layers of the soil and taking out the first samples of ore for analysis. After positive results of the geological tests they started the big extraction.
Therefore the Rockster R800 jaw crusher is needed to crush the galena to a fraction of 0 – 40 mm. To define this final grain size they use the screenbox RS83 and return belt RB75 on the crushing plant. After that they change the crushing units and continue crushing the 0 – 40 mm material with the impact crusher R900 to a fraction of 0 – 5 mm. This material is sent to a leaching company to separate the pure ore which is then used for the production of concentrates based on polymetallic ores.
Rockster representative Maksim Perminov commissioned the machine and did the training and instruction at the customer's place in Tanzania. He says: "After finding out the requirements of the P.B. Mining Company I was sure that the Rockster Duplex-System would be the best solution to receive the final grain quality they need with the lowest costs possible. The uniformity of the ore mass is very important for them. As the galena rock has a very high abrasiveness, it requires a primary crushing on the jaw crusher to reduce the wear of blow bars when working on a rotary crusher."
The P.B. Mining Company is highly satisfied with their "2-in-1" crushing plant, it is the right system for them to get the 0 – 5 mm final grain without the need of purchasing, maintain and transport 2 separate crushers. By using the jaw as primary crusher they safe wear and maintenance costs as well as the secondary impact crusher guarantees the best product shape and quality so that they finally can crush their galena in the most ecological and cost efficient way.