SENNEBOGEN is extending its plant II at Straubing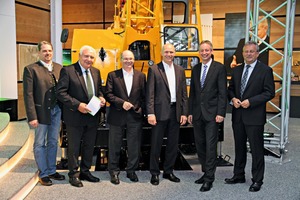 Quelle/Source: Sennebogen
1 Christopher Ostermeier from the ZVI (Zweck-Verband-Industrie), the Mayor of Aiterhofen, Manfred Krä, the two Managing Directors Walter and Erich Sennebogen, the Lord Mayor of Straubing, Markus Pannermayr, and the District Administrator, Josef Laumer (from left) at a press event
Quelle/Source: Sennebogen
SENNEBOGEN is extending its production and warehouse areas at its site at the port of Straubing by around 35 000 m². In addition, a new 6700 m² production shop is being built for the assembly and painting of large components and for finishing work and quality control. With this investment into the Straubing site, the company is preparing itself for future projects, expanding its capacity for the production of large machines (Fig. 1).
The family-owned SENNEBOGEN company had made an impressive showing of its ties to the region back in 2008 with the opening of its second plant at the port of Straubing. On the heels of the construction project and dedication of the SENNEBOGEN Academy and the Erich Sennebogen Museum in 2014, this new plant extension is yet another major investment. Meanwhile, Plant I is primarily used for the manufacture and testing of large machines with up to 300 t operating weight that are also prepared at the plant for worldwide shipping. In order to accommodate the growing need for space and to increase capacity for future production requirements, the factory premises are being expanded in two construction phases starting in mid-2015. The detailed planning of the construction work was preceded by intensive logistics planning including material flow optimization measures (Fig. 2).
During the first phase, a paved surface is being built south of the current premises for the technical approval of telescopic cranes and rope excavators and for a new noise metering area. A new and spacious shipping area for machines and components is also part of the project. During the second phase, a new assembly and paint shop for large machines will be built by the end of 2016. The current production shops and technical approval areas will benefit as well. Also, there will be more space for device assembly and for testing and set-up procedures. "This will enhance production flexibility and reduce lead times, a requirement of the market and customers that is often crucial when making purchasing decisions", explains managing director Erich Sennebogen.