Sand dredger "Stellamaris" at work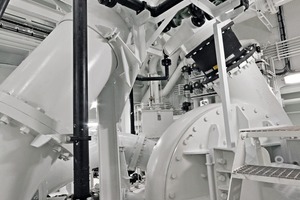 1 Hochdruckpumpe von Damen an Bord, um über ein Bugaggregat das Material an Land zu pumpen • Damen in board high pressure dredge pump for pumping ashore over the bow coupling unit

The hopper dredger "Stellamaris" has been handed over to its owner, DTM, by the Spanish yard Astilleros de Murueta. The TSHD, designed for sand mining, will work not far from its building location. The dredging equipment on board was supplied by Damen Dredging (Fig. 1).
The 2600 m3 dredger has been specifically designed as a sand dredger. The hopper will operate in the Bay of Biscay, where it will mine sand at a max depth of 45 m. Therefore the trailing pipe has been fitted out with a submerged 600 kW electrically driven Damen dredge pump, type OBP6055LD. A separate inboard Damen dredge pump, type BP6055HD, pumps the cargo ashore. All dredging equipment, including dredge valves, bottom doors and overflows, were delivered by Damen Dredging, complete with the required dredging instrumentation. The delivered dredging equipment is based on existing and proven design using the feedback from the "Andre.L" which is also equipped with Damen gear (Fig. 2). The submersed dredge pump units are for instance completely interchangeable.
Astilleros de MURUETA from Gernika, in Northern Spain, has designed and built the hopper dredger. The "Stellamaris" is 103.1 m long, 15.5 m wide and has an loaded speed of 14 kn. The dredger was built during 2012 at the Erandio yard and has been tested extensively both near Bilbao as well as on its mining locations. The "Stellamaris" has started its dredging operations, focusing on various concessions along the French coast for mining sand for the construction industry.