Screening and crushing instead of crushing and screening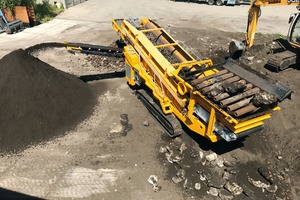 Quelle/Source: Backers
1 Sternsieb, Prallbrecher und Reinigung • Star screen, impact crusher and cleaning
Quelle/Source: Backers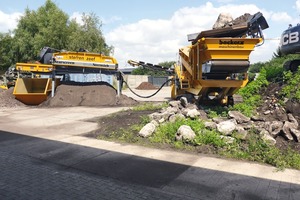 Quelle/Source: Backers
2 Vorteile beim Recycling von mineralischem Bauschutt • Advantages in recycling of C&D material
Quelle/Source: Backers
The new grizzlyscreen supplied by Backers enables a new, alternative processing of C&D material, mineral soils and rocks with clay stuck to them. The rotating rollers, which are very firmly fixed at one end, ensure the continuous removal of any large particles. The fines 0 – 150/300 mm are loosened up. From the hopper, the fines are fed on the ascending 6.7-m-long screen deck, where at, for example, 45 mm is screened with high efficiency. The cleaned 45 – 150/300 mm size is then transferred directly to a new impact crusher.
This combination has advantages, especially for soil recycling, but also for the recycling of C&D material. Grizzly screen, star screen and magnet offer the crusher protection against ­relatively large stones, iron and ­cohesive soils. The fines ­0 – 45 mm (soils and similar) can be then be processed separately from the coarse material. High throughput is achieved with simul­taneously ­reduced wear and ­operating costs. As everything is crushed relatively coarse, the dust content is substantially ­reduced. ­Further advantages are that stones are separated from coherent soils and only crushed (into cubic ­particles) afterwards. The finished products are separated optimally and with high efficiency.
The material flow 0 – 45 mm is fed to an auxiliary screen with which cleaning is performed at 10 mm. At the end of the fine screen, low-gravity particles are extracted by an air classifier and any iron is removed on the downstream belt conveyor.