Predictive maintenance
Sensor-based inspection service for conveyor belt systems
T‌echnology company Continental has developed a service solution for monitoring conveyor belt systems to permit early identification of weak points along a belt conveyor system before damage resulting in unscheduled and cost-intensive downtimes occurs.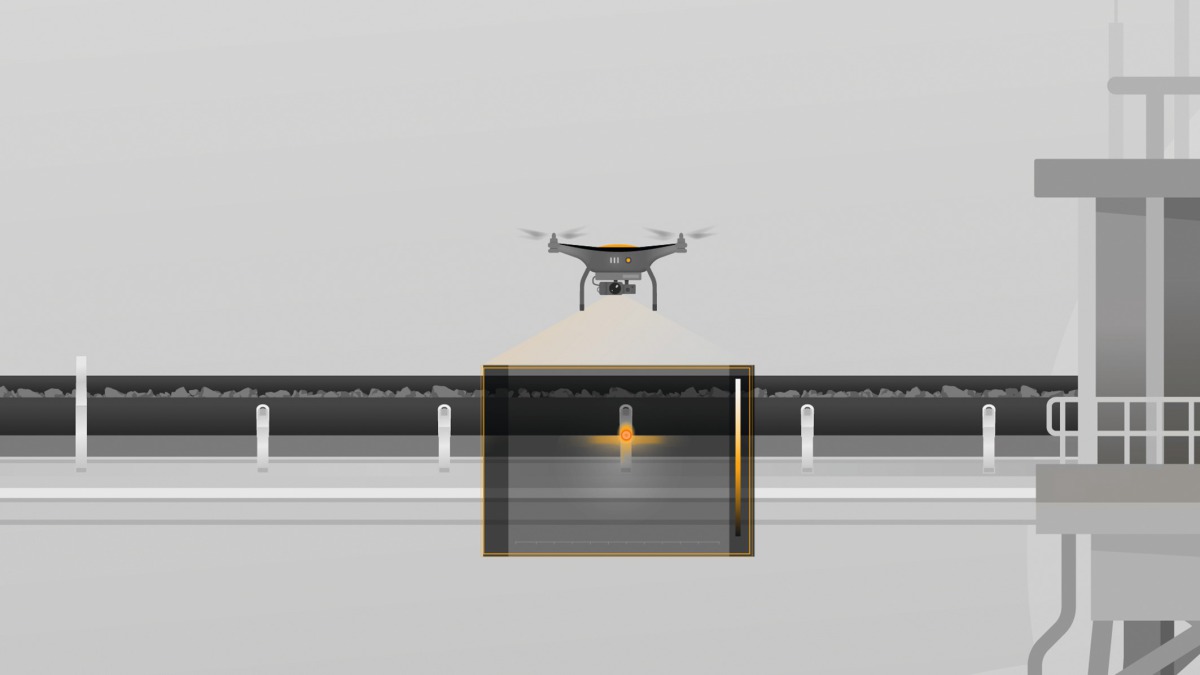 1 A drone inspects the conveyor belt system on open sections using RGB- and infrared cameras
© Continental
1 A drone inspects the conveyor belt system on open sections using RGB- and infrared cameras
© Continental
The new, technology-based approach, which was developed to the prototype stage in the Incubator program of Co-pace, the company's own startup organization, offers a combination of visual and acoustic inspection and also permits the efficient, data-assisted planning of maintenance intervals; it replaces the conventional and usually very laborious manual process with sensor-based technologies that permit a more precise inspection process, reduce the verification input and enable predictive maintenance.
Cameras and microphones ensure valid readings
Idlers are important components of a belt conveyor and are essential in ensuring smooth conveying operations. A conveyor belt on a medium-sized conveyor with a belt length of 40 km in total runs over some 120 000 idlers. Around 30 % of the operational faults with belt conveyors are attributable to defects with idlers that it was not possible to identify in a timely manner. The new service offering is in response to this fact. It comprises a hybrid solution that addresses different applications and sections.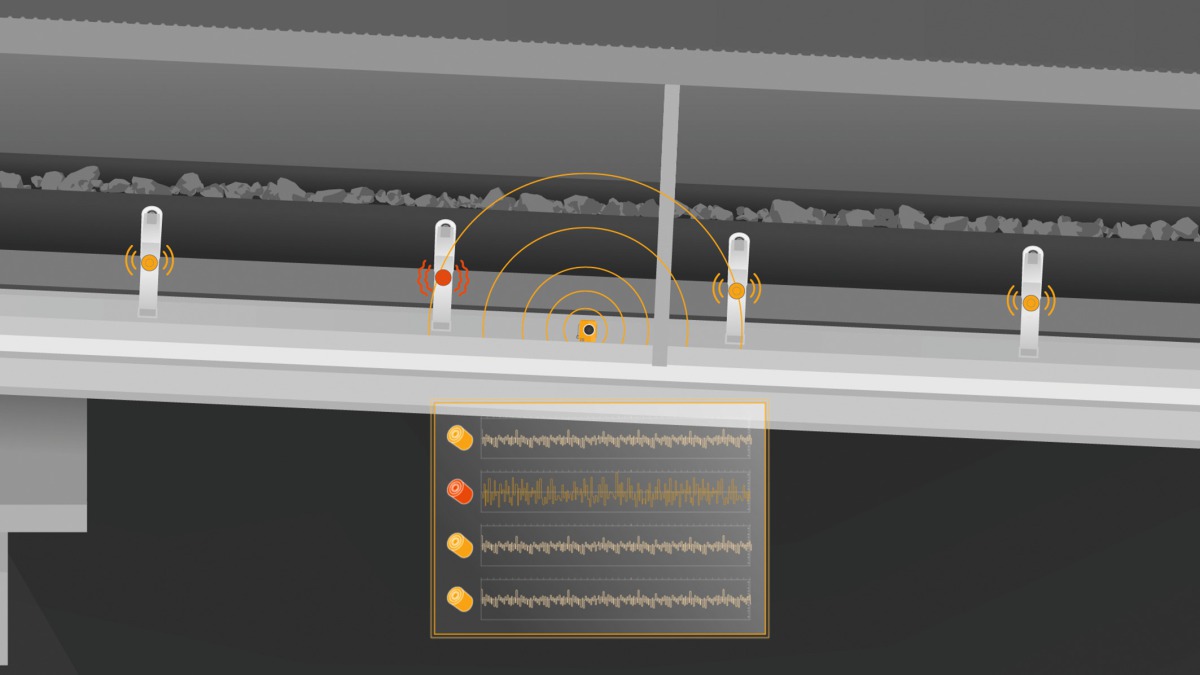 2 In shielded track areas, stationary microphones detect possible frequency deviations of idlers
© Continental

2 In shielded track areas, stationary microphones detect possible frequency deviations of idlers

© Continental

On the one hand, inspection of open sections and operations is carried out from the air using a drone equipped with infrared and RGB cameras that monitors both sides of the belt conveyor. As soon as the drone has flown over the section under inspection, it returns to an autonomous charging station in order to upload the data collected to the relevant cloud via an IoT (Internet of Things) module during the charging process. The image data is processed with the aid of an AI-assisted (artificial intelligence) algorithm and analyzed with reference to any detected idler defects.

Continuous maintenance in covered sections or underground conveyors, on the other hand, is carried out using fixed microphones installed every 20 – 25 m that capture frequency variations in the numerous idlers. The audio recording is conducted twice a day, with the data being uploaded to the cloud specified above. Events that indicate a damaged idler are then investigated using an AI-based algorithm.
Data-assisted condition monitoring enables demand-driven service intervals
"Conventional and often manual inspection methods can be very time-consuming, imprecise or even dangerous for service technicians because of the belt length or local circumstances such as underground routing and enclosed sections. Documentation is also often performed manually, with reports having to be manually input subsequently into the relevant datasets. Maintenance intervals also frequently follow a fixed rotational principle, meaning that measures required on short notice to avoid or prevent conveyor failures cannot be carried out in a timely manner," explains Clemens Panzer, who plays a leading role in the new development as a member of the interdisciplinary team set up for this project.
Sensor-based inspection, by contrast, permits data-assisted remote monitoring of system condition, with the result that potential damage can be detected at an early stage and avoided. Another benefit is that "the data collected will automatically be made available in a digital form in the future via a user-friendly interface. The data can be viewed at any time and permits the demand-driven planning of relevant service periods. Changes in the conveyor condition over an extended period can be analyzed significantly better using the stored historical data, and the anticipated service life of the components can also be better estimated."
To date, the solution has been successfully tested in initial field trials. Further pilot projects with potentially interested parties are planned. The system is scheduled to be operational in the course of 2021. "We expect a viable software solution for future service operations to be available in the course of next year," says Panzer.
Prototype development in the company-owned Incubator
The Incubator operated by startup organization Co-pace provided the necessary environment for the rapid validation of technology- and market-relevant assumptions that underpin the concept and for initial data collections and tests for creating the prototype. To enable this to happen, the necessary expertise was assembled in an interdisciplinary team that examined the system's feasibility, viability and attractiveness based on data, interviews with experts and customer feedback and incorporated the findings for the purposes of optimizing the product. Recording audio signals, for instance, resulted in the successful analysis of idlers – whereas only a visual inspection was originally planned. The leap from concept to prototype was completed in just two months.