Abrasion, corrosion and caking
Specific challenges in the aggregates industry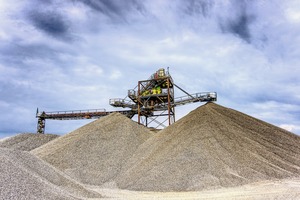 © REMA TIP TOP
2 Beim Verschleißschutz in der Sand- und Kiesbranche geht es primär um Abrasion, Korrosion und Anbackung • With regard to wear protection in the aggregates industry, it is primarily about abrasion, corrosion and caking
© REMA TIP TOP
Sebastian Hofmann is Head of Sales Germany at REMA TIP TOP and Managing Director of REMA TIP TOP Desdorf near Cologne. In an interview, the graduate engineer talks about the specific challenges of the sand and gravel industry, the art of belt selection as well as wear-resistant rubber linings and dust-absorbing covers for more environmental protection.
Mr. Hofmann, REMA TIP TOP describes itself as a "system provider of services and products in the field of conveyor and processing technology". What does this mean for the sand and gravel industry?
Sebastian Hofmann: In the sand and gravel industry the two central terms for us are wear protection and conveyor belts. The conveying process can be roughly divided into five phases: mining, crushing, transport, classification, storage and loading. In each phase, we can support the operator in meeting the specific challenges. Since we offer everything from a single source, from belt production to the installation of belts, wear protection and other plant elements to maintenance and support of the running plant, the customer does not have to struggle with different systems being only partially compatible, but can fall back on our comprehensive and coordinated range along the value chain.
What specific improvements can a customer expect from the use of REMA TIP TOP products?
Sebastian Hofmann: I will be happy to give you an example: I recently visited a customer being able to achieve a maximum usage time of 12 weeks with the previous lining material for his material transfer chute. After an on-site inspection, we lined the chute with REMALOX HD75, a durable rubber-ceramic compound. The average service life thus increased from 12 to 28 weeks.
Starting with belt production and installation: What is particularly important when selecting products for sand and gravel?
Sebastian Hofmann: The first step is to analyse the customer's individual challenges: Is the material wet? Does it easily cake? Is it extremely dry and abrasive? Is it heavy and round or fine and abrasive? What is the height the material falls onto the belt? If, for example, heavy material falls on the belt from a height of 10 m, it can easily break through. For counteraction, we install impact bars about 10 cm below the belt. It is usually made of polyurethane absorbing the force of the impact and thus relieves the belt. In addition to the conveyor belt, it is also important to select the right material for the side leads: We can line the plates to the left and right of the conveyor belt to support the material with rubber, ceramic, plastic or steel as required.
What does wear protection in the sand and gravel industry have to protect plant elements against?
Sebastian Hofmann: Wear protection in the sand and gravel industry is primarily concerned with three sources of problems: abrasion, corrosion and caking. Temperature, which is a common problem with other materials, does not play a major role for us. The challenges depend on the material to be processed and must therefore also be analysed together with the customer. We can then determine the required hard- and thickness of the rubber or whether a composite material must be used. In our industry, this would be the optimum combination of rubber and ceramics: ceramics against abrasion wear and rubber as impact protection.
Which elements can typically be lined with wear protection materials?
Sebastian Hofmann: If we look at the usual conveying process, we can sensibly use our wear protection materials in almost every phase. The material is for example, inserted into a crusher having a metal housing and where enormous forces prevail. The type of wear protection here again depends on the material to be crushed. The same applies to screening machines, vibratory plates or classification systems. In Germany, the lining of trucks is not so common. It is widely used in large plants worldwide in order to increase the service life of the material, in this case, e. g. the tipping trough.
Even wear protection is not always protected against wear. How does the customer recognize that an exchange might be necessary?
Sebastian Hofmann: Wear protection considerably increases the service life of the original material, but wear protection must also be renewed at certain intervals. In order to avoid unpleasant surprises, we include a two-colour wear indicator in some of our wear protection materials. As soon as the customer sees the second colour, the signal layer, he knows that he has to replace the corresponding elements.
After installing belts and wear protection, you also talked about maintenance and care. What does this include?
Sebastian Hofmann: We do not leave the customer alone with our products, neither in the selection process nor in the running operation. Depending on the service contract, we offer our customers a round-the-clock service promise. Since the sand and gravel plants are rarely located in the Australian outback, but rather on our own doorstep, this proximity means both an opportunity and a challenge for us: Usually, we are no more than 100 km away from the customer, in an emergency we are at the customer's site after around two hours, a reaction time of one hour and a travel time of one hour. Many customers appreciate this service because every minute of downtime does cost money.
Sand and gravel plants are often not only very close to your front door, but in front of many front doors. What role do wear protection materials play in reducing noise and dust emissions?
Sebastian Hofmann: Due to the probably unique proximity of factories and residential areas it is an important topic in our industry. Many examples can be found along the Rhine: usually, there is a factory on one side of the Rhine and a housing estate on the other. If we use a metal funnel here and load or unload a Rhine ship, an extreme noise pollution may occur and can be clearly heard on the other side of the Rhine. Extra thick rubber elements were used here to significantly reduce noise emissions for the residents. The same applies to dust exposure: with our products we can tension a dust-absorbing enclosure over a conveyor belt and dust generation from material transfers can also be significantly reduced by wear protection. We closely work together with the University of Leoben and their studies have shown that dust generation can be reduced by more than 90 % if the right rubber linings are used.