Terex Trucks to present the old and the new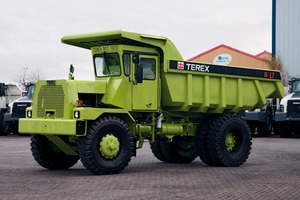 Quelle/Source: Terex Trucks
1 Der 40 Jahre alte Schlepper R17 steht gleichermaßen für die Geschichte und die Entwicklung von Terex Trucks • The 40-year-old R17 hauler represents both the history and evolution of Terex Trucks
Quelle/Source: Terex Trucks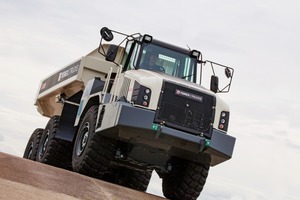 Quelle/Source: Terex Trucks
2 Der knickgelenkte Schlepper TA300 ist darauf ausgelegt, den härtesten Bedingungen in Steinbrüchen, Infrastrukturentwicklungen und kommerziellen Projekten standzuhalten • The TA300 articulated hauler is designed to withstand the toughest conditions at quarries, infrastructure developments and commercial projects
Quelle/Source: Terex Trucks
Terex Trucks is set to return to Hillhead once again – this time, to showcase the latest TA300 alongside the vintage R17 hauler. Based in Scotland, Terex Trucks has been building robust haulers at its Motherwell site since 1950. Taking pride of place on the Terex Trucks stand will be the new TA300 articulated hauler and the R17, which dates back to the early 1970s.
Achieving a payload of 28 tonnes and powered by a five-cylinder Scania DC9 EU Stage IV compliant engine, the TA300 hauler is designed to withstand the toughest conditions at quarries, infrastructure developments and commercial projects. With a maximum torque of 1880 Nm, the machine has great traction and an effective power-to-weight ratio to ensure material is moved quickly and cost-effectively across all kinds of terrain and in any type of weather. Additionally, the machine features an ergonomically designed cab, complete with plenty of space and a commanding view for maximum operator comfort.
More than 40 years old, the R17 13.5 tonnes hauler represents the history of Terex Trucks. Originally, the engine was manufactured in Cumbernauld and the machine itself was built in Motherwell. A team of apprentices have been working hard at the Motherwell factory to restore the machine back to its original glory. With the work now complete on the truck, visitors at Hillhead will be able to appreciate the historic craftsmanship of the R17 for themselves, from the simple yet effective operating system to original features such as the driver's seat and engine.
"In 1934 the first off-road dump truck was created. And it's not often that you get to see a 40-year-old truck that's still in working condition; we hope this highlights the level of quality we build into our machines. Of course, our current machine, the TA300 articulated hauler, will take pride of place too and shows that we remain committed to creating quality trucks that are built to last," says Paul Douglas, Managing Director of Terex Trucks.
Stand N14 / Stand A7