The EcoCube is the flexible all-rounder for extraction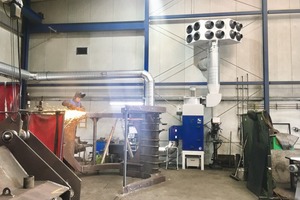 Quelle/Source: TEKA
1 Die Seiler GmbH genießt mit EcoCube völlige Autonomie. Nach der Montage wird in der Fertigung sicher abgesaugt und abgeschieden • The EcoCube provides the Seiler GmbH from Ascheberg (Münsterland) with absolute autonomy. After its assembly, it enables safe extraction and separation in manufacturing
Quelle/Source: TEKA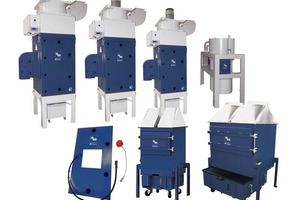 Quelle/Source: TEKA
2 Die EcoCube-Serie bietet Varianten für unterschiedliche Anforderungen: die Modelle EcoCube 5,5, EcoCube 7,5, EcoCube 11, DustVac und Brandschutz • The EcoCube series comprises different requirements: the models EcoCube 5,5, EcoCube 7,5, EcoCube 11, DustVac and fire protection
Quelle/Source: TEKA
W‌ith the EcoCube, TEKA has developed a unique ­solution for an easy and safe extraction and filtration of fumes and dusts at manual welding stations or welding robots. As a highly versatile innovation, the EcoCube has developed into a bestseller in the TEKA product range since its market launch a year ago. As simple as possible in assembly, main­tenance and service and as efficient as possible when it comes to power – based on this premise the manufacturer has developed EcoCube as a modular system solution.
The quick mounting system of the product innovation is convincing: With a few, self-explanatory steps, EcoCube can be mounted in a less than half an hour field installation without prior knowledge. Equipped with four nano-filter cartridges of the latest generation, especially designed for welding and cutting technology that provide for optimum collection efficiency and thus for a plus in health prevention, EcoCube takes up the work reliably.
The polluted air is led into the filter section via a pipeline system. Here the particulate pollutants deposit on the surface of the nano-filter cartridges that are cleaned automatically at intervals by means of compressed air. The pollution particles are detached by the compressed air and get into the dust collector. The purified air is led back into the working room without heat loss. The employment of the newest motor generation achieving up to 10 000 m3/h provides for a steady and reliable performance and additional energy efficiency. By default the EcoCube is supplied ready for operation, including a Siemens SPS control unit, powerful fans, a filter selection and a dust collecting section. For the individual modules made of stable sheet steel the ease of use is guaranteed thanks to service doors.
TEKA's product innovation is not an isolated solution, but grows with the requirements in the production at the operation site and can be anytime retrofitted or extended. As sensor interfaces and therefore Industry 4.0 compatibility are part of the default equipment, the EcoCube can be linked to the new indoor air monitoring system Airtracker, if required. With the EcoCube, small and medium-sized users acquire safe autonomy for filtering and extracting. However, TEKA also notes great demand for the EcoCube in international markets.