NEBOLEX® Umwelttechnik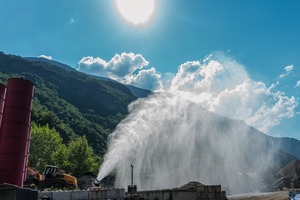 Quelle/Source: Nebolex
1 Auf offenen Lagerplätzen werden Staubbindemaschinen wie hier die V22 mit einer Wurfweite von max 100 m effektiv eingesetzt • In open storage yards, dust-binding machines like the V22 with a launch range of max. 100 m are used effectively
Quelle/Source: Nebolex
W‌ith sound know-how in mechanical engineering and complex water spraying, products have been developed to cover a wide range of applications today – from tunnel construction, underground and surface extraction of coal through bulk solids processing, handling and storage to the recycling of paper, metal and construction waste. But in quarries, steelworks, concrete plants, waste incineration plants and at port cranes, too, a water-spraying system is needed for dust suppression.
NEBOLEX Umwelttechnik GmbH, a company headquartered in Kirchberg/Germany, has the solution for these industries. It offers the patented NEBOLEX® Umwelttechnik products in mobile and stationary models. Mobile, fully automatic fog cannons are efficient, environmentally friendly and can be used universally. Special nozzles produce a fine water mist that efficiently binds the dust particles directly at the source. With different nozzle configurations, the size of the droplets is varied, which determines the air and fall velocity. With different launch ranges, coverage from 5 to 80 m is guaranteed. On a pallet for a forklift or mounted on an undercarriage, the machines can be easily manoeuvred over terrain.
Stationary NEBOLEX® Umwelttechnik systems are permanently installed. Here fog bars with integrated dispersion nozzles are installed directly where the dust is formed. In the mist heads, water is broken up into extremely fine water droplets by means of compressed air. With the larger total surface area of the water droplets formed, many more of the dust particles swirling in the air can be bound and the dust produced is minimized. In the patented fog bars, dispersing nozzles are protected against the impact of stones. The system enables a dust reduction over 90 % with a very low water input.
At SOLIDS Dortmund on 7 and 8 November 2018, NEBOLEX Umwelttechnik is presenting its trade fair model along with dust- and odour-binding products. The small-scale functional model shows how dust binding functions on a large scale in a practice-oriented demonstration.
Stand: R 26 – 6