NEBOLEX Umwelttechnik
NEBOLEX Umwelttechnik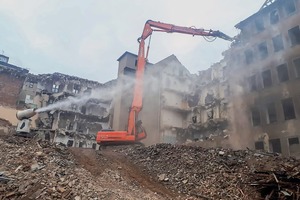 Quelle/Source: Nebolex
Hotelabbruch in Leipzig begonnen – zur Staubvermeidung und Staubreduzierung ist eine Staubbindemaschine V12S von NEBOLEX Umwelttechnik im Einsatz • Hotel demolition in Leipzig started
– f
or dust prevention and dust reduction, a V12S dust binding machine from NEBOLEX Umwelttechnik is used
Quelle/Source: Nebolex
T‌he operation of construction sites in all federal states of Germany is subject to both federal and state regulations to protect employees, the neighborhood and the general public from dust. Dust pollution occurs ever more frequently either due to the construction activities themselves or to the interim storage of building materials - a fact the neighborhood and all people involved will no longer accept without complaint. Therefore, it is now mandatory to apply state-of-the-art dust binding methods, such as humidification of the material by means of controlled water misting during demolition work or during the dumping of demolition material from gutting work or the storage of rubble.
Several years ago, NEBOLEX Umwelttechnik specialized in the reduction of dust emissions by means of stationary dust-binding machinery and mobile dustbinder equipment. The NEBOLEX mobile portfolio of NEBOLEX Umwelttechnik comprises a number of different small to large dust-binding machines for testing, renting and/or buying. The mobile machines are fully automatic, powerful and environmentally friendly.
Special nozzles create a fine mist of water, which highly efficiently binds the dust particles directly at their source of origin. Depending on kind and size of the dust particles, the nozzles are configured according to demand in order to ensure optimum binding of most different kinds of dust. State-of-the-art valve technology guarantees efficient water throughput. The different fog cannons are controllable by remote control and thus easy to handle. Mounted on pallets for forklift trucks or on an undercarriage, the machines are well maneuverable off-road.
Stand C5.512